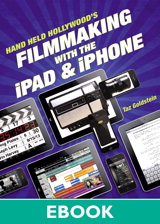 Description
Filmmakers love gadgets. We flock to any new technology that demonstrates the slightest potential to help us conceptualize, visualize and digitize our creative efforts. So why have we neglected those touch-screen powerhouses hiding in our pockets and backpacks?

That is about to change!

In Hand Held Hollywood's Filmmaking with the iPad and iPhone, director Taz Goldstein exposes how these remarkable devices can aid in nearly every aspect of film and video production. His book weaves film theory together with an entertaining and informative exploration of the latest filmmaking apps and accessories.

Covering everything from structuring story with virtual index cards, to shooting footage with specialized camera apps and accessories, to putting it all together with powerful editing tools, this book will bring novice filmmakers up to speed, and inspire working professionals to rethink their aging workflows. Throughout the book are links to all the applications described within, with additional resources available at the HandHeldHollywood.com website.

This is THE book for iThing-obsessed filmmakers. With nearly 300 million iPads and iPhones sold, filmmakers around the world already own the most versatile filmmaking tool ever made… they just don't know it yet! This book will help them understand and unlock the potential packed into every one of these devices.
Table of Contents
PART ONE
development and pre-production
1 Stop Playing "Angry Birds" and Write That Script!
Mapping Your Mind
Structuring Your Story
Writing Your Screenplay
Using External Keyboards
Speaking Your Script
2 Don't Just Sit There–Read a Script and Sit There
Reading Screenplays
Annotating Screenplays
Memorizing Screenplays
Finding Screenplays
3 Here's the Pitch!
Presentation Apps
Where to Find Imagery
Following Up
4 Prepping the Shoot
Production Directories.
Tech Scouting
Scheduling
Call Sheets
Release Forms and Contracts
Digitizing Dead Trees
A Quick Word About Budgeting
PART TWO production
5 The Director's Toolkit
Storyboarding for Artists
Storyboarding for Non-Artists
The Ultimate Director's Viewfinder
Blocking Your Shots
Building a Rodriguez List
6 Lights! Camera! Airplane Mode!
Getting the Best Results.
The Best Video Camera Apps
Unique Video Cameras
Audio: Half of Good Video
7 Mount It, Mod It, and Mic It
Gearing Up Your iPhone
Your iPad, Only Better!
Awesome Extras
Step Up to the Mic
8 The Most Versatile Tools on Set
Teleprompters
Creating an Interrotron
Camera Calculations
The Ultimate Slate
Field Monitors and Instant Dailies
Let There Be Light
Contents ix
PART three postproduction and beyond
9 From Mess to Masterpiece
Importing Footage
Color Correcting Your Footage
Editing Footage
Composing the Score
Mixing Your Audio
Editing Extras
Learning More
10 It's Done! Now What?
YouTube, Vimeo, and Facebook
Selling Your Work
iPhone Film Festivals
Putting It On-Screen
The Last App in the Book
Additional Resources
Purchase Info
ISBN-10: 0-13-309431-6
ISBN-13: 978-0-13-309431-2
Format: eBook (Watermarked)?
This eBook includes the following formats, accessible from your Account page after purchase:
EPUBThe open industry format known for its reflowable content and usability on supported mobile devices.
MOBIThe eBook format compatible with the Amazon Kindle and Amazon Kindle applications.
PDFThe popular standard, used most often with the free Adobe® Reader® software.
This eBook requires no passwords or activation to read. We customize your eBook by discretely watermarking it with your name, making it uniquely yours.
Includes EPUB, MOBI, and PDF
$31.99
Add to Cart