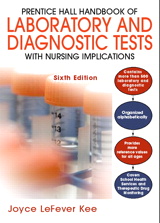 Description
For all clinical courses in the nursing curriculum, especially medical-surgical (adult health) and fundamentals.
Organized alphabetically by tests, this reference pocket guide provides easy access to information on more than 500 laboratory and diagnostic tests. It has an emphasis on reference values and normal findings, descriptions, purposes, procedures, clinical problems and drug affects, factors affecting tests results, nursing implications and client teaching.
Table of Contents
Preface
Notice of Privacy Policies
PART I
Considerations for Use of Laboratory Tests
List of Laboratory Tests
Laboratory Tests
PART II
Considerations for Use of Diagnostic Tests
List of Diagnostic Tests
Diagnostic Tests
PART III
School Health Services: Education, Screening and Testing
PART IV
Therapeutic Drug Monitoring (TDM).
Appendix A: Health Problems with Laboratory and Diagnostic Tests
Appendix B: Laboratory Test Values for Adults and Children.
Bibliography
Index
Purchase Info ?
With CourseSmart eTextbooks and eResources, you save up to 60% off the price of new print textbooks, and can switch between studying online or offline to suit your needs.
Once you have purchased your eTextbooks and added them to your CourseSmart bookshelf, you can access them anytime, anywhere.
Buy Access
Handbook of Laboratory and Diagnostic Tests, CourseSmart eTextbook, 6th Edition
Format: Safari Book
$21.80 | ISBN-13: 978-0-13-607142-6