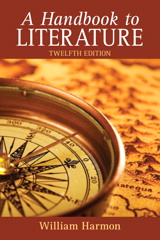 Description
The
definitive
reference on literature in English, this handbook provides an alphabetical listing of more than 2,000 important terms and facts in literature, linguistics, rhetoric, criticism, printing, bookselling, and information technology. The Web site (
www.prenhall.com/harmon
) offers a handy glossary of key terms, a pronunciation key for select terms, pre- and post-tests on the terms, flash cards for key terms, and a literary timeline.
Table of Contents
Contents
Preface to the Twelfth Edition
To the User
Handbook to Literature
Outline of Literary History: British, American, World
APPENDICES
Monetary Terms and Values
Nobel Prizes for Literature
Pulitzer Prizes for Fiction
Pulitzer Prizes for Poetry
Pulitzer Prizes for Drama
Index of Proper Names
Purchase Info
Print Choices
Loose Leaf Version ?
Books a la Carte are less-expensive, loose-leaf versions of the same textbook.