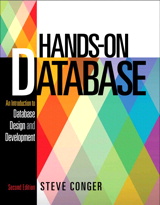 Description
For Introductory Database courses that focus on hands-on experience.

Define and develop a database through a scenario approach.

Hands-On Database uses a scenario-based approach that shows students how to build a database by providing them with the context of a running case throughout each step of the process.
Table of Contents
1. Who Needs a Database
2. Gathering Information
3. Requirements and Business Rules
4. Database Design
5. Normalization and Design Review
6. Physical Design
7. SQL
8. Is It Secure?
Appendix A. Using Microsoft Access with the Book
Appendix B. SQL Server Express
Appendix C. Visio
Appendix D. Common Relational Patterns


Purchase Info ?
With CourseSmart eTextbooks and eResources, you save up to 60% off the price of new print textbooks, and can switch between studying online or offline to suit your needs.
Once you have purchased your eTextbooks and added them to your CourseSmart bookshelf, you can access them anytime, anywhere.
Buy Access
Hands-On Database, CourseSmart eTextbook, 2nd Edition
Format: Safari Book
$45.99 | ISBN-13: 978-0-13-304846-9