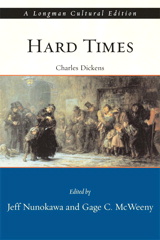 Description
From Longman's new Cultural Editions Series, Hard Times, by Charles Dickens, edited by Jeff Nunokawa, includes Books 1-3 of Hard Times and contextual materials on the age of Dickens.
Table of Contents
List of Illustrations.
About Longman Cultural Editions.
About This Edition.
Introduction.
Table of Dates.
Hard Times, 1854.
CONTEXTS
Condition of England
Benjamin Disraeli, from Sybil (1845).
Friedrich Engels, from The Condition of the Working Class in 1844.
Thomas Carlyle, from Past and Present (1843).
Charles Dickens, "On Strike" (1854).
Thomas Hood, selected poetry.
Marx, Friedrich, and Engels, from The Communist Manifesto.
Political Economy and its Discontents.
Jeremy Bentham, from An Introduction to the Principles of Morals and Legislation, Chapter 1; Chapter 5.
John Stuart Mill, "Bentham;" "Coleridge".
Carlyle, from Past and Present and Signs of the Times.
Education.
J.M. M'Culloch, from A Series of Lessons (1831).
John Stuart Mill, from Autobiography.
Charles Dickens, "Matters Educational," from Our Mutual Friend (1865).
Herbert Spencer, "What Knowledge is of Most Worth?"(1859).
Victorian Reactions to Hard Times.
Further Reading.
Purchase Info ?
With CourseSmart eTextbooks and eResources, you save up to 60% off the price of new print textbooks, and can switch between studying online or offline to suit your needs.
Once you have purchased your eTextbooks and added them to your CourseSmart bookshelf, you can access them anytime, anywhere.
Buy Access
Hard Times, A Longman Cultural Edition, CourseSmart eTextbook
Format: Safari Book
$8.99 | ISBN-13: 978-0-205-82242-3