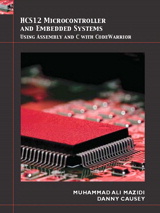 Description
For undergraduate-level courses in microcontrollers and embedded systems.
HCS12 Microcontroller and Embedded Systems: Using Assembly and C with CodeWarrior, 1e features a systematic, step-by-step approach to covering various aspects of HCS12 C and Assembly language programming and interfacing. The text features several examples and sample programs that provide students with opportunities to learn by doing. Review questions are provided at the end of each section to reinforce the main points of the section. Students not only develop a strong foundation of Assembly language programming, they develop a comprehensive understanding of HCS12 interfacing. In doing so, they develop the knowledge background they need to understand the design and interfacing of microcontroller-based embedded systems. This book can also be used by practicing technicians, hardware engineers, computer scientists, and hobbyists. It is an ideal source for those wanting to move away from 68HC11 to a more powerful chip.
Table of Contents
Introduction to Computing
Chapter 1: The HCS12 / 9S12 Microcontroller: History and Features
Chapter 2: HCS12 Architecture AND Assembly Language Programming
Chapter 3: Branch, Call, and Time Delay Loop
Chapter 4: HCS12 / 9S12 I/O Port Programming
Chapter 5: Arithmetic, Logic Instructions, and Programs
Chapter 6: Advanced Addressing Modes, Look-Up Table, Macros, and Modules
Chapter 7: HCS12 Programming in C
Chapter 8: HCS12 Hardware Connection, BDM, and S19 Hex File
Chapter 9: HCS12 Timer Programming in Assembly and C
Chapter 10: HCS12 Serial Port Programming in Assembly and C
Chapter 11: Interrupt Programming in Assembly and C
Chapter 12: LCD and Keyboard Interfacing
Chapter 13: ADC, DAC, and Sensor Interfacing
Chapter 14: Accessing Flash and EEPROM, and Page Switching
Chapter 15: Relay, Optoisolator, and Stepper Motor
Chapter 16: SPI Protocol and RTC Interfacing With HCS12
Chapter 17: PWM and DC Motor Control
Appendix A: HCS12 Instructions Explained
Appendix B: AsmIDE, ImageCraft C COMPILER, and D-BUG12
Appendix C: IC Interfacing, System Design Issues, and Wire Wrapping
Appendix D: Flowcharts and Pseudocode
Appendix E: HCS12 Primer for x86 Programmers
Appendix F: ASCII Codes
Appendix G: Assemblers, Development Resources, and Suppliers 672
Appendix H: Data Sheets
Purchase Info ?
With CourseSmart eTextbooks and eResources, you save up to 60% off the price of new print textbooks, and can switch between studying online or offline to suit your needs.
Once you have purchased your eTextbooks and added them to your CourseSmart bookshelf, you can access them anytime, anywhere.
Buy Access
HCS12 Microcontrollers and Embedded Systems, CourseSmart eTextbook
Format: Safari Book
$78.99 | ISBN-13: 978-0-13-507365-0