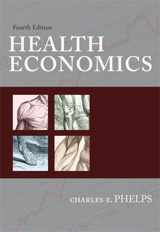 Description
Health Economics combines current economic theory, recent research, and health policy problems into a comprehensive overview of the field. After serving as Provost of the University of Rochester, author Charles E. Phelps has thoroughly updated his classic and widely used text.

Accessible and intuitive, early chapters develop essential methodological foundations using recent empirical studies as support. Later chapters build on these core concepts to focus on key policy areas, such as the structure and effects of Medicare reform, insurance plans, and new technologies in the healthcare community.

In the Fourth Edition, a new focus on lifestyle choices—such as alcohol consumption, obesity, and tobacco use—explores how individual choices affect everyday health and the healthcare system at large. The latest theoretical developments, Medicaid and SCHIP, insurance plans, new technologies, international comparative studies, and policy updates are integrated where appropriate.

Table of Contents
1. Why Health Economics?
2. Utility and Health
3. The Transformation of Medical Care to Health
4. The Demand for Medical Care: Conceptual Framework
5. Empirical Studies of Medical Care Demand and Applications
6. The Physician and the Physician Firm
7. Physicians in the Marketplace
8. The Hospital as a Supplier of Medical Care
9. Hospitals in the Marketplace
10. The Demand for Health Insurance
11. Health Insurance Supply and Managed Care
12. Government Provision of Health Insurance
13. Medical Malpractice
14. Externalities in Health and Medical Care
15. Managing the Market: Regulation and Technical Change in Health Care
16. Universal Insurance Issues and International Comparisons of Health Care Systems

Author's Postscript
Appendix: Introduction to Basic Economics Concepts
Bibliography
Acknowledgments
Index

Purchase Info ?
With CourseSmart eTextbooks and eResources, you save up to 60% off the price of new print textbooks, and can switch between studying online or offline to suit your needs.
Once you have purchased your eTextbooks and added them to your CourseSmart bookshelf, you can access them anytime, anywhere.
Buy Access
Health Economics, CourseSmart eTextbook, 4th Edition
Format: Safari Book
$97.99 | ISBN-13: 978-0-321-61328-8