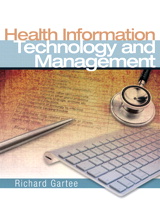 Description
This textbook will introduce students to the principles and practices of Health Information Management through understanding of Health Information Technology and its application today.
Topics covered in the text are based on the core competencies defined by AHIMA as well as HIPAA regulations and JACHO recommendations.
To prepare for twenty-first century healthcare occupations, the student needs to understand the connectivity and applications that make up Health Information Systems of today. The text will provide students with a thorough understanding of both the terminology of Health Information Technology and the practical use of Information Systems in actual medical facilities.
Table of Contents
Table of Contents
Preface
Introduction
Learning Made Easy (walk through)
Organization of The Text
A Few Words of Advice
About The Author
Acknowledgements
Chapter 1 Health Care Delivery Fundamentals
Healthcare Settings
Ambulatory Care Facilities
Acute Care Facilities
Long Term Care Facilities
Rehab Facilities
Home Care
Comparison of Inpatient versus Outpatient
Admission and Discharge
Health Care Providers and Professions
Direct Care Providers
Doctors
Nurses
Licensed Practical Nurse
Registered Nurse
Physician Assistant
Allied Health Care Professions
Clinical Allied Health Professions
Non-Clinical Allied Health Professions
Chapter One Summary
Testing Your Knowledge of Chapter 1
Chapter 2 Health Information Professionals
History of Health Information Management
HIT and HIM professions
List of job descriptions and organizational structures
HIM manager or director
Registered Health Information Administrator
Clinical Data Specialist
DRG Coordinator
APC Coordinator
Clinical Coding Specialist
Coding Associate
Medical Transcriber
Cancer Registrar
HIM compliance specialist
Optical Imaging Coordinator
Registered Health Information Technicians
Real Life Story: Building An All Digital Hospital
Clinical Project Manager, IT Project Manager
Clinical Analyst
Clinical Vocabulary Manager
Clinical Applications Coordinator
Data Quality Manager
Data Resource Administrator
Decision Support Analyst
Health Information Systems Department Technician
Enterprise Application Specialist
Integration Architect
Health Systems Specialist
Solution Analyst
Solution Consultant
Systems Analyst
Information Security Manager
Records and Information Coordinator
Officers and Other Positions
Compliance Officer
Privacy Officer
Information Privacy Coordinator
Security Officer
Risk Management Specialist
Utilization Manager
Quality Improvement Director
Senior Document Coordinator
Health Services Manager
Patient Information Coordinator
Clinical Research Associate
Medical Office Manager
Health Insurance Specialist
Real Life Story: Examples of Project Management
Organizations of Importance to HIM or HIT Professionals
AHIMA
HIMSS
AMIA
MGMA
ACMPE
ANSI
HL7
AAMT
NCRA
AAPC
Skills For Success
Chapter Two Summary
Testing Your Knowledge of Chapter 2
Chapter 3 Accreditation, Regulation and HIPAA
Accreditation and Regulation
CMS
State and Local Laws
The Joint Commission (JCAHO)
CAP
CARF
HIPAA
Administrative Subsection
HIPAA Transactions and Code Sets
HIPAA Uniform Identifiers
Privacy and Security of Patient Records
HIPAA Privacy Rule
Privacy Policy
Consent
Modifying HIPAA Consent
Authorization
Research
Research Exceptions
Marketing
Government Agencies
Minimum Necessary
Incidental Disclosures
A Patient's Right to Know About Disclosures
Patient Access to Medical Records
Health Information Management Responsibilities
Personal Representatives
Minor Children
Business Associates
Civil and Criminal Penalties
Real Life Story: The First HIPAA Privacy Case
HIPAA Security Rule
The Privacy Rule and Security Rule Compared
Security Standards
Implementation Specifications
Administrative Safeguards
Security Management Process
Assign Security Responsibility
Workforce Security
Information Access Management
Security Awareness and Training
Security Incident Procedures
Contingency Plan
Real Life Story: Contingency Plans Ensure Continued Ability to Deliver Care
Evaluation
Business Associate Contracts and Other Arrangements
Physical Safeguards
Facility Access Controls
Workstation Use
Workstation Security
Device and Media Controls
Technical Safeguards
Access Control
Audit Controls
Integrity
Person or Entity Authorization
Transmission Security
Organizational, Policies and Procedures Documentation Requirements
Organizational Requirements
Policies and Procedures
Documentation
Chapter Three Summary
Testing Your Knowledge of Chapter 3
Chapter 4 Fundamentals of Computer Systems
The Technology Behind Health Systems
Hardware
CPU
Memory and Storage
Random Access Memory
Hard Drives
Optical Disks
Read Only Memory
Magnetic Tape
Input and Output Devices
Ergonomics
Software
Operating Systems
Application Software
Bits and Bytes How a Computer Works
Extending Functionality
Databases
Characters
Fields
Records
Files and Tables
Data Dictionary
Relational Data
Images
Image Storage: File or BLOB
Networks
Network Hardware
Clients and Servers
Local Area Networks
Wide Area Networks
Internet
Protocols (TCP/IP)
Secure Remote Access
Wireless Networks
Printers and Reports
Report Server
COLD
Interoperability standards
Data Elements
Data Sets
HL7
Maintaining Interoperability
CCOW
Communication Systems
E-Mail systems
Telecommunications
Real Life Story: A Look Behind The Hospital Network
Chapter Four Summary
Testing Your Knowledge of Chapter 4
Chapter 5 Health Care Records
Understanding Health Care Records
Functions of Health Care Records
Primary and Secondary Uses of Records
Types and Structure of Health Records
Transition From Paper To Electronic Records
Health Record contents
Administrative and Demographic Data
Consent and Directives
HIPAA Consent to Use and Disclose PHI
Consent to Treatment
Informed Consent
Refusal of Treatment
Medicare Patient Rights Statement
Assignment of Benefits
Advance Directives
Organ Donor
Personal Property List
Disclosure Records
Clinical Documents
Medical History
Physical Exam
Diagnostic and Therapeutic Orders
Diagnostic and Therapeutic Reports
Diagnostic Images
Operative Records
Nursing Notes
Referral Consults
Case Management
Discharge Summary
Obstetrical Records
Pediatric Records
Public Health Records
Continuity of Care Record
RHIO
Who Owns The Record?
The Personal Health Record
Telemedicine
Teleradiology
Reporting Home Nursing Visits
Patient Reporting And Telemonitors
E-Visits
Chapter Five Summary
Testing Your Knowledge of Chapter 5
Chapter 6 Organization, Storage and Management of Health Records
How Paper Charts Are Organized
Source Oriented Record
Problem Oriented Record
Integrated Record
Electronic Views
Filing Paper Records
Paper Chart Numbering Systems
Paper Chart Filing Systems
Terminal Digits Filing
Color Coding
Record Storage and Circulation
Calculating Storage
Chart Locator Systems
Legal and Ethical Management of Health Records
Record Retention
Real Life Story: You Never Know What You Don't Know
Destruction of Health Records
Release of Information
HIM and HIT Ethics
AHIMA Code of Ethics
Chapter Six Summary
Testing Your Knowledge of Chapter 6
Chapter 7 Electronic Health Records
Electronic Medical Records
IOM
CPRI
HIPAA
EHR Defined
Social Forces Driving Adoption
Health Safety
Health Costs
Government Response
Functional Benefits of an EHR
Health Maintenance
Trend Analysis
Alerts
Decision Support
Prescriptions
Medical References
Protocols
Form Affects Functionality
Standard EHR Coding Systems
SNOMED
MEDCIN
LOINC
Advantages of Codified Records
Health Maintenance
Trend Analysis
Alerts
Decision Support
Documenting At The Point of Care
Benefits of Real Time Documentation
Document storage and image retrieval systems
Quality Control
Real Life Story: Where's My Chart?
Flow of An Office Fully Using EHR
Electronic Signatures
How Digital Signatures Work
Methods of Capturing and Recording Data
Clinician Entered Data
Saving Clinicians Time
Nomenclature
Lists
Forms
Search
Prompt
Flow Sheets
Orders
Protocol
Patient Entered Data
Workflow Using Patient Entered Data
Preventive Health Screening
Alternative Workflow
E-Visits
Workflow of An E-Visit
Health Maintenance
Immunizations
Preventative Care Screening
Using EHR Data For Alerts
Reactions to Drugs or Other Treatments
Other Types Of Alerts
Decision Support
Chapter Seven Summary
Testing Your Knowledge of Chapter 7
Chapter 8 Additional Health Information Systems
Departmental Systems
LIS and device systems
Radiology department
Cat, CT, PET, MRI etc.
Digital images
Voice recognition
Pharmacy systems
Dispensing Systems
Drug Trials
ER systems
Scheduling Systems
Surgery
Appointments
Staff
Implant Records
Chapter Eight Summary
Testing Your Knowledge of Chapter 8
Chapter 9 Health Care Business Systems
Administration and Business Systems
Registration
Master Patient Indexes
Insurance Eligibility
Episode vs. continuing care
Admission/Discharge
Coding, Billing and Reimbursement
Batch and Real-time posting
Transaction Standards
Electronic Claims
Paper Claims
UB-92
CMS 1500
Electronic Remittance
Prospective Payment System
DRG
Accounting and Tax Records
Payroll
Purchasing and Supplies
Inventory Control
Chapter Nine Summary
Testing Your Knowledge of Chapter 9
Chapter 10 Health Statistics, Research and Quality Improvement
Secondary Health Records
Using Data Analysis and Research
Health Care Statistics
Using codified data
Coding and abstracting reports
Registries
Cancer
Tumor
Immunization
CDC
Text analysis processing
Chapter Ten Summary
Testing Your Knowledge of Chapter 10
Chapter 11 Information Systems for Managerial Support
Administrative Records
Maintenance Records
Personnel Records
Training
Evaluations
Accreditation
Continuing Education Unit records
Incident Records
Chapter Eleven Summary
Testing Your Knowledge of Chapter 11
Chapter 12 Principles of Management
Workflow and Design
Project Management
Change Management
Training and Education Systems
Upgrades and Test environments
Chapter Twelve Summary
Testing Your Knowledge of Chapter 12
Purchase Info ?
With CourseSmart eTextbooks and eResources, you save up to 60% off the price of new print textbooks, and can switch between studying online or offline to suit your needs.
Once you have purchased your eTextbooks and added them to your CourseSmart bookshelf, you can access them anytime, anywhere.
Buy Access
Health Information Technology and Management, CourseSmart eTextbook
Format: Safari Book
$55.99 | ISBN-13: 978-0-13-506064-3