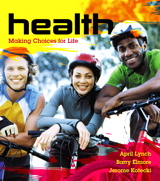 Description
&>
Built by students for students.
Health: Making Choices for Life distinguishes itself by speaking your language and helping you to apply the material to your life and implement real behavior change. Built from the ground up with student-generated content and incorporating technology that students use, this is the health book that you can relate to—the one that will inspire you to choose a healthy lifestyle.
The student-savvy approach is demonstrated in many different ways throughout the text and is built on an ultra-modern, magazine-style design with appealing photos and visuals that encourage you to read. Additionally, student stories in both the text and online provide real-life examples of important health issues. Unique, practical tools like the Choosing to Change Worksheets walk you through the steps of behavior change and help you to make informed decisions about your lifestyle choices. Lastly, the authors employ a conversational writing style that speaks directly to you while maintaining quality content and excellent academic rigor.
Note: If you are purchasing the standalone text or electronic version, MasteringHealth does not come automatically packaged with the text. To purchase MasteringHealth please visit www.masteringhealthandnutrition.com or you can purchase a package of the physical text + MasteringHealth by searching for 0321982703/ 9780321982704. MasteringHealth is not a self-paced technology and should only be purchased when required by an instructor.
Table of Contents
I. MAKING HEALTHY CHOICES
1. Health in the 21st Century: New Challenges, New Choices
II. MAINTAINING MIND-BODY HEALTH
2. Psychosocial Health: Maintaining the Mind and Spirit
3. Stress Management: Coping with College Life
4. Sleep: Repairing Your Body, Recharging Your Mind
III. EATING RIGHT, STAYING FIT
5. Nutrition: Food for Life
6. Physical Activity: For Fitness, Health, and Fun
7. Body Image, Body Weight: Achieving a Healthy Balance
IV. AVOIDING ABUSE AND ADDICTION
8. Compulsive Behaviors and Psychoactive Drugs: Understanding Addiction
9. Alcohol: Choices and Challenges
10. Tobacco: A Clear and Present Danger
V. REDUCING YOUR RISK OF DISEASE
11. Diabetes and Cardiovascular Disease: Reducing Your Risk
12. Cancer: Take-Charge Choices
13. Immunity and Infection: Breaking the Chain
VI. BUILDING HEALTHY RELATIONSHIPS
14. Relationships: Communication, Conflict, and Commitment
15. Sexuality: Your Body, Your Choices
16. Sexually Transmitted Infections: Safeguard your Sexual Health
17. Contraception: Avoiding Unintended Pregnancy
18. Choosing Parenthood: Pregnancy, Childbirth, and the Challenge of Infertility
VII. PRESERVING YOUR HEALTH
19. Consumer Health: Options in Health Care
20. Personal Safety: Caution Ahead
21. Environmental Health: Protecting Yourself and Your World
22. Navigating Change: The Gifts and Challenges of Aging
Additional Course Materials
This title is also sold in the various packages listed below. Before purchasing one of these packages, speak with your professor about which one will help you be successful in your course.
Package ISBN-13: 9780133918052
Includes this title packaged with:
Modified MasteringHealth with Pearson eText -- ValuePack Access Card -- for Health: Making Choices for Life
April Lynch, Barry Elmore, Jerome Kotecki
$135.80 | Add to Cart