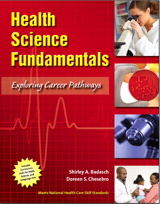 Description
Health Science Fundamentals provides students with the skills they need to become competent,and productive health care workers throughout their careers, with a strong emphasis on employability skills such as teamwork, effective communication professionalism, and medical ethics.
A thorough update of the best-selling Introduction to Health Occupations by Badasch and Chesebro, Health Science Fundamentals has maintained the popular readability, simplicity, and comprehensive coverage of clinical procedures while making important improvements to ensure student success as they train to become Health Science professionals.
To emphasis career skills the text is devided into two parts
Becoming a Health Care Worker includes basic information all health care workers must have to attain success in any health care field
Health care Knowlded adn Skills, covers the technical concepts and clinical skills students need to gain employment in a variety of entry-level occupations.


Table of Contents
Health Science Fundamentals, Badasch
Table of Contents
Part 1 Becoming a Health Care Worker
Chapter 1 Introduction to Being a Health Care Worker
Chapter 2 Understanding Health Care Systems
Chapter 3 Finding the Right Occupation for You
Chapter 4 Employability and Leadership
Chapter 5 Understanding Legal Obligations
Chapter 6 Medical Ethics
Chapter 7 Wellness
Chapter 8 Teamwork
Chapter 9 Effective Communications
Part 2 Health Care Knowledge and Skills
Chapter 10 Medical and Dental Terminology
Chapter 11 Medical Math
Chapter 12 Measurements and the Scientific Process
Chapter 13 Your Body and How It Functions
Chapter 14 Human Growth and Development
Chapter 15 Mental Health
Chapter 16 Nutrition
Chapter 17 Measuring Vital Signs and Other Clinical Skills
Chapter 18 Therapeutic Techniques and Sports Medicine
Chapter 19 Medical Assisting and Laboratory Skills
Chapter 20 Controlling Infection
Chapter 21 Patient and Employee Safety
Chapter 22 Dental Assistant Skills
Purchase Info ?
With CourseSmart eTextbooks and eResources, you save up to 60% off the price of new print textbooks, and can switch between studying online or offline to suit your needs.
Once you have purchased your eTextbooks and added them to your CourseSmart bookshelf, you can access them anytime, anywhere.
Buy Access
Health Science Fundamentals, CourseSmart eTextbook
Format: Safari Book
$56.99 | ISBN-13: 978-0-13-608003-9