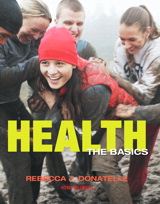 Description
Health starts here!
With an emphasis on media, the new Health: The Basics, Tenth Edition features robust relatable content, bringing health topics to life and keeping you hooked on learning and living well.
Now enhanced with an even more comprehensive package of easy-to-use media and supplements, this edition makes teaching and learning personal health extra dynamic. The Tenth Edition includes new ABC News videos, more online worksheets, new course management and eText options, Tweet Your Health, new student "behavior change video log (vlog)" videos, countless new teacher supplements, and more. These resources bring personal health to life in any form–in the classroom, online, or on the iPad. These tools all motivate students to be more interested in the book content and invest in their health.
Table of Contents
1. Accessing Your Health
2. Promoting and Preserving Your Psychological Health
Focus on: Cultivating Your Spiritual Health
3. Managing Stress and Coping with Life's Challenges
Focus on: Improving Your Sleep
4. Preventing Violence and Injury
5. Building Healthy Relationships and Understanding Sexuality
6. Considering Your Reproductive Choices
7. Recognizing and Avoiding Addiction and Drug Use
8. Drinking Alcohol Responsibly and Ending Tobacco Use
9. Eating for a Healthier You
10. Reaching and Maintaining a Healthy Weight
Focus On: Enhancing Your Body Image
11. Improving Your Personal Fitness
12. Reducing Your Risk of Cardiovascular Disease and Cancer
Focus on: Minimizing Your Risk for Diabetes
13. Protecting against Infectious and Noninfectious Diseases
14. Preparing for Aging, Death, and Dying
15. Promoting Environmental Health
16. Making Smart Health Care Choices
17. Understanding Complementary and Alternative Medicine
Enhance your learning experience with text-specific study materials.