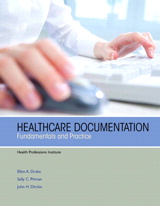 Description
Ideal for learners with no prior experience and those seeking refresher training, Healthcare Documentation: Fundamentals and Practice, 4/e is the most comprehensive healthcare documentation learning system available. It begins with a thorough overview of the medicolegal and technology aspects of healthcare documentation, including key trends such as electronic health records, security, privacy, and speech recognition. Next, it provides integrated content linked to 10 hours of exceptionally authentic medical dictation practice. Extensive exercises in the text combine with online audio exercises to systematically reinforce core knowledge and build critical thinking, editing, and research skills. The final chapter focuses on finding employment and preparing students for the workplace, professional development, and continuing education. This edition has been extensively revised for the latest industry trends and techniques, contains many new learning features, and offers a compelling new full-color design with many new illustrations.
Table of Contents
Chapter 1. Healthcare Documentation Profession
Chapter 2. The Healthcare Record
Chapter 3. Healthcare Documentation Technology
Chapter 4. Medical Transcription Practices
Chapter 5. Perspectives on Style
Chapter 6. Psychiatry
Chapter 7. Dermatology
Chapter 8. Family Medicine
Chapter 9. Internal Medicine
Chapter 10. Pulmonary Medicine
Chapter 11. Ophthalmology
Chapter 12. Cardiology
Chapter 13. Urology
Chapter 14. Obstetrics/Gynecology
Chapter 15. Gastroenterology
Chapter 16. Orthopedics
Chapter 17. Neurology
Chapter 18. Radiology
Chapter 19. Pathology
Chapter 20. Professional Issues
Purchase Info
Digital Choices
MyLab & Mastering ?
MyLab & Mastering products deliver customizable content and highly personalized study paths, responsive learning tools, and real-time evaluation and diagnostics. MyLab & Mastering products help move students toward the moment that matters most—the moment of true understanding and learning.
eTextbook ?
With CourseSmart eTextbooks and eResources, you save up to 60% off the price of new print textbooks, and can switch between studying online or offline to suit your needs.
Once you have purchased your eTextbooks and added them to your CourseSmart bookshelf, you can access them anytime, anywhere.