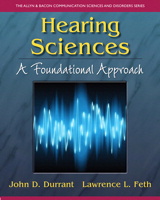 Description
For upper level courses focusing on hearing science.
An introduction to hearing science that is both comprehensive and includes a broad coverage of auditory mechanisms and function, giving students and teachers a battery of logical tools upon which to build their knowledge.
Here is a compendium of principles that serve as the foundations of hearing science—principles essential to knowledge-base competency in audiology, speech-language pathology, and allied fields embracing the auditory system. In a uniquely comprehensive approach, this text explains the fundamental concepts of physics, acoustics, anatomy, physiology, and sensory psychology to help all readers comprehend the complex auditory processes presented, and use those concepts as essential building to deepen their knowledge or to knowledgeably move into the clinical science of hearing. The text emphasizes the concepts underlying the diagnosis of disorders of the auditory system and their treatment, whether medical or rehabilitative.
Table of Contents
Chapter 1 Introduction to Hearing and Basic Auditory Capabilities
Chapter 2 Physics: Back to Basics
Chapter 3 Applied Acoustics for Hearing Science
Chapter 4 Measurement of Sound
Chapter 5 Acoustico-Mechanical Pathway of Sound to the Inner Ear
Chapter 6 Physiological Acoustics of the Cochlea
Chapter 7 Neurophysiology of the Auditory System
Chapter 8 Psychoacoustics and Sound Perception
Purchase Info ?
With CourseSmart eTextbooks and eResources, you save up to 60% off the price of new print textbooks, and can switch between studying online or offline to suit your needs.
Once you have purchased your eTextbooks and added them to your CourseSmart bookshelf, you can access them anytime, anywhere.
Buy Access
Hearing Sciences: A Foundational Approach, CourseSmart eTextbook
Format: Safari Book
$61.99 | ISBN-13: 978-0-13-500345-9