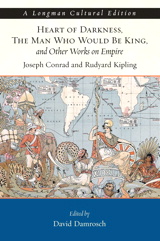 Description
From Longman's Cultural Editions series, Heart of Darkness, The Man Who Would Be King, and Other Works on Empire shows the literary and historical context within which—and against which—both Conrad and Kipling wrote their masterpieces.
These works have deeply influenced later writings that deal with the ambitions, complexities, and failures of imperial projects of cultural influence and political control. English, American, South Asian, and African authors from Saul Bellow to Salman Rushdie have worked with and against the models pioneered by Conrad and Kipling in the late Victorian era; their revolutionary impact is illuminated in this text.
Table of Contents
List of Illustrations
About Longman Cultural Editions
About This Edition
Introduction
Table of Dates
Rudyard Kipling: Poems and Stories
A Tale of Two Cities
The Last Department
The Widow at Windsor
Tommy
The Young British Soldier
Fuzzy-Wuzzy
Gunga Din
Mandalay
Recessional
The White Man's Burden
Ulster 1912
[Footnotes to Kipling Poems]
Without Benefit of Clergy
[Footnotes to Kipling, Without Benefit of Clergy]
The Man Who Would Be King
[Footnotes to "The Man Who Would Be King"]
Contexts: Empire and Its Discontents
Edward Lear: "The Akond of Swat"
Hilaire Belloc: "I, the Poor Indian, justly called 'The Poor'"
"The Llama"
W. S. Gilbert: "The British Tar"
"The Darned Mounseer"
"The King of Canoodle-Dum"
Christina Rossetti, "In the Round Tower at Jhansi, June 8, 1857"
Ghalib: from Dastambu: A Bouquet of Flowers
"Now every English soldier that bears arms"
Bahadur Shah II: "I am not the light of anyone's eye"
"I cannot bring myself to like this despoiled wilderness"
Major R.C.W. Mitford, from To Cabul with the Cavalry Brigade
Howard Hensman, from The Afghan War of 1879-80
[Footnotes to Contexts: Empire)]
Joseph Conrad: Heart of Darkness
Contexts: The Scramble for Africa
Olaudah Equiano, from The Interesting Narrative of the Life of Olaudah Equiano
Henry Morton Stanley, from Through the Dark Continent
from Address to the Manchester Chamber of Commerce
Joseph Conrad, from Congo Diary
Roger Casement, from Report to Parliament on the Congo
[Footnotes to Contexts: The Scramble for Africa"
Further Reading
Additional Course Materials
This title is also sold in the various packages listed below. Before purchasing one of these packages, speak with your professor about which one will help you be successful in your course.
Package ISBN-13: 9780205832330
Includes this title packaged with:
Frankenstein, A Longman Cultural Edition, 2nd Edition
Mary J Shelley, Susan J. Wolfson
Dr. Jekyll and Mr. Hyde, The Secret Sharer, and Transformation: Three Tales of Doubles, A Longman Cultural Edition
Robert Louis Stevenson, Joseph Conrad, Mary J Shelley, Susan J. Wolfson, Barry V. Qualls
Picture of Dorian Gray, The, A Longman Cultural Edition
Oscar Wilde, Andrew Elfenbein
Vindication of the Rights of Woman and The Wrongs of Woman, A, or Maria
Mary Wollstonecraft, Anne K. Mellor, Noelle Chao
$107.47 $102.10 | Add to Cart