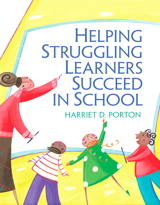 Description
Filled with strategies for reaching at-risk students, this book provides teachers with a process and plan to help transform struggling learners into successful students.
Taking a step-by-step approach, this book follows the teaching-learning process and covers the core concepts of planning, management, instruction and assessment. Chapters are filled with strategies for turning at risk students into thriving learners and cover techniques such as grouping, reflection, praise, rules, routines and boundaries. Using a narrative style and authentic anecdotes, it weaves sound research with real life illustrations so content is applicable and meaningful. A classroom-ready appendix includes all of the templates contained in the book and shows how to help struggling learners succeed in school.
Table of Contents
INTASC STANDARDS
PART ONE- PREPARATION
I PLANNING
Chapter 1 How to Plan for Instruction
Chapter 2 Identifying Struggling Learners
Chapter 3 Effective Grouping Strategies
Chapter 4 Practices of Reflective Planners
II MANAGEMENT
Chapter 5 Successful Management Skills — Rules, Routines, and Boundaries
Chapter 6 Successful Management Skills — Guidelines for Effective Implementation
Chapter 7 Mistakes in Management
Chapter 8 Practices of Reflective Managers
PART TWO- SUCCESS
III INSTRUCTION
Chapter 9 Guidelines for Effective Instruction
Chapter 10 Discovery Learning
Chapter 11 Practices of Reflective Teachers
IV ASSESSMENT
Chapter 12 How to Create Effective Assessments
Chapter 13 Formative v. Summative Assessments
Chapter 14 Practices of Reflective Assessors
Appendix
Purchase Info ?
With CourseSmart eTextbooks and eResources, you save up to 60% off the price of new print textbooks, and can switch between studying online or offline to suit your needs.
Once you have purchased your eTextbooks and added them to your CourseSmart bookshelf, you can access them anytime, anywhere.
Buy Access
Helping Struggling Learners Succeed in School, CourseSmart eTextbook
Format: Safari Book
$35.99 | ISBN-13: 978-0-13-290517-6