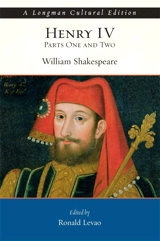 Description
The Longman Cultural Editions series presents the only paperback edition of both parts of Henry IV published in one volume, together with relevant literary and historical contextual materials that illluminate without overwhelming the primary texts. This edition presents both parts of Shakespeare's Henry IV plays in the authoritative Bevington edition, tracing the full course of Prince Hal's ambiguous journey from prodigal youth to his role as King Henry V, as well as the controversial career of the tavern "king," Sir John Falstaff. Contextual materials emphasize the plays' historical background, Shakespeare's transformation of his sources, and the intellectual controversies that are embodied in the dramatic action. One Longman Cultural Edition can be packaged at no additional cost with any volume of The Longman Anthology of British Literature by Damrosch et al., or at a discount with any other Longman textbook.
Table of Contents
List of Illustrations
About Longman Cultural Editions
About This Edition
Introduction
Table of Dates
Select Genealogy
Henry IV, Part One
Henry IV, Part Two
Contexts
Shakespeare's Historical Sources
Raphael Holinshed, from Chronicles of England,
Scotland, and Ireland, 2nd edition (1587)
Samuel Daniel, from The First Four Books of the Civil War
between the Two Houses of Lancaster and York (1595)
From The Famous Victories of Henry V (pre-1588?; pub. 1598)
Sir Thomas Elyot, from The Book Named the Governor (1531)
Obedience, Resistance, Rebellion
St. Paul, from Epistle to the Romans, ch. 13
From Certain Sermons or Homilies (1547, 1563, 1571)
From An Exhortation Concerning Obedience(1547)
From An Homily Against Disobedience and Willful Rebellion (1570; 1571).
John Ponet, from A Short Treatise of Politic Power (1556)
Philippe du Plessis-Mornay, from Vindiciae contra tyrannos (The Defense of Liberty Against Tyrants) (1579)
Shakespeare's History Plays
A Catalogue of the several Comedies, Histories, and Tragedies contained in this Volume
William Shakespeare, from Richard II
The Fascination of Falstaff
Key Statements
Samuel Johnson, from The Plays of William Shakespeare (1765)
Elizabeth Montague, from Essay on the Writings and Genius of Shakespeare (1769)
Maurice Morgann, from An Essay on the Dramatic Character of Sir John Falstaff (1777)
William Hazlitt, from Characters of Shakespeare's Plays (1817)
A. C. Bradley, from "The Rejection of Falstaff," Oxford Lectures on Poetry (1909)
Partial models
Titus Maccius Plautus, from Miles Gloriosus (The Braggart Soldier)
From The Interlude of Youth
Edmund Spenser, from The Faerie Queene, Book 1, Canto 4
From Oldcastle to Falstaff
John Foxe, from Acts and Monuments (1563)
Raphael Holinshed, from Chronicles of England, Scotland, and Ireland, 2nd edition (1587)
Michael Drayton, Richard Hathaway, Antony Munday, and Robert Wilson, Sir John Oldcastle, Part One (Prologue) (1600)
William Shakespeare, from Henry VI, Part One (ca. 1590)
Theatrum Mundi
Giovanni Pico della Mirandola from Oration (on the Dignity of Man) (1486)
Sir Thomas More, from Utopia (1516)
Sir Walter Raleigh, "On the Life of Man"
William Shakespeare, from Richard III (1592), Richard II (1595), As You Like It (1599), Macbeth (1606), The Tempest (1611)
Additional Course Materials
This title is also sold in the various packages listed below. Before purchasing one of these packages, speak with your professor about which one will help you be successful in your course.
Package ISBN-13: 9780205761272
Includes this title packaged with:
Longman Anthology of British Literature, Volume 1A, The: The Middle Ages, 4th Edition
David Damrosch, Kevin J. H. Dettmar, Christopher Baswell, Anne Howland Schotter
Longman Anthology of British Literature, Volume 1B, The: The Early Modern Period, 4th Edition
David Damrosch, Kevin J. H. Dettmar, Clare Carroll, Andrew David Hadfield
Longman Anthology of British Literature, Volume 1C, The: The Restoration and the Eighteenth Century, 4th Edition
David Damrosch, Kevin J. H. Dettmar, Stuart Sherman
$131.59 $105.27 | Add to Cart