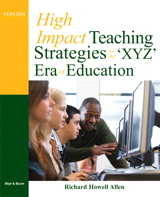 Description
A whole new force of technology has entered education--PowerPoint, smart boards, MP3s, and the internet have brought stunning changes to all levels of learning in schools across the country. As teachers, the challenge is not the technology, but understanding how that technology has shaped and prepared students. Transforming your instruction into high impact teaching not only captivates and engages these new learners but improves academic results, classroom behavior, and student attitudes. Incorporate these proven strategies and reconnect with the realities of today's classroom.
Table of Contents
Section One
Understanding the Dynamics of the 'XYZ' Era of Education
Section Two
High-Impact ABC Strategies
Contents
A = Acknowledgment
B = Being Open
C = Crest of the Wave
D = Directions
E = Entertainment
F = Frames
G = Getting Responses
H = High-Quality Responses
I = Involve, Don't Tell
J = Jump Up
K = Keen Visuals
L = Labels
M = Music
N = Novelty
O = Ownership
P = Pause
Q = Questions
R = Revolutions
S = Socialization
T = Tiers
U = Uniquely Memorable
V = Vocal Italics
W = Walk Away
X = X-Ray Vision
Y = Yesterday Lives!
Z = Zones of Instruction
Lesson 1: The Presence of Chlorophyll in Leaves
Lesson 2: Natural Resources
Lesson 3: Using Question Marks Appropriately
Lesson 4: Know Your State
Lesson 5: Sentence Types
Lesson 6: ABCs on the Move
Lesson 7: Photo Journal Review
Lesson 8: Native American Legends
Lesson 9: Animals in the Ocean
Lesson 10: Plotting Points on the Coordinate Grid
Lesson 11: American History Time Lines
Lesson 12: Can You Dig It?
Lesson 13: Review Baseball
Lesson 14: Docent of Your Own Museum–Understanding the Visual Arts in Relation to History and Culture
Lesson 15: Carrying Capacity of a Landscape
A Final Thought
Section Three
Lessons in the Language of Learning
Appendix
Stories
The Strawberry
The Traveler
The Animal School
The White Horse
The Castle Wall
The Two Seeds
The 1958 World Series
The Caterpillars
The Bicycle
References
Index