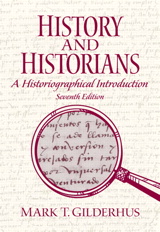 Description
For undergraduate and graduate courses in Historiography, Philosophy of History, and Historical Methods. Also an ideal supplemental text for Western Civilization and Intellectual History courses.
This concise, best-selling volume presents a thorough and comprehensive overview of Western historical thinking from ancient times until the present. History and Historians surveys the main issues and problems in areas such as historiography, philosophy of history, and historical methodology. The book strives for a balanced coverage and attempts to make the subject accessible to readers at all levels.
Table of Contents
Preface
1 Aims and Purposes
2 The Beginnings of Historical Consciousness
3 Historical Consciousness in the Modern Age
4 Philosophy of History: Speculative Approaches
5 Philosophy of History: Analytical Approaches
6 Professional History in Recent Times
7 Culture Wars, Postmodernism, and Other Issues
Index
Purchase Info ?
With CourseSmart eTextbooks and eResources, you save up to 60% off the price of new print textbooks, and can switch between studying online or offline to suit your needs.
Once you have purchased your eTextbooks and added them to your CourseSmart bookshelf, you can access them anytime, anywhere.
Buy Access
History and Historians, CourseSmart eTextbook, 7th Edition
Format: Safari Book
$18.99 | ISBN-13: 978-0-205-69534-8