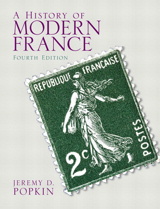 Description
An overview of the history of France from the mid-18th century to the present.
Organized chronologically, A History of Modern France presents a survey of the dramatic events that have punctuated French history, including the French Revolution, the upheavals of the 19th century, the world wars of the 20th century, and France's current role in the European Union.
Written for today's undergraduate students, the text presents scholarly controversies in an unbiased manner and reflects the best of contemporary scholarship in French history.
Learning Goals
Upon completing this book readers will be able to:
Describe important events in modern French history

Understand the political, cultural, social, and economic forces that have shaped contemporary France

Appreciate the continued importance of French history for students in the 21st century
Table of Contents
Chapter 1
Documents
Voltaire, on Social Conditions in Eighteenth Century France
Louis XIV Writes to His Son (1661)
King Louis XIV, "The Code Noir" (French), 1685
Map
France Under Louis XIV
Audio
Louis XIV
Chapter 2
Documents
French Peasants, Cahiers de doléances
Jean-Jacques Rousseau, Emile
Jacques-Louis Ménétra, Journal of My Life
Petition of Women of the Third Estate
Emmanuel Joseph Sieyès, What is the Third Estate?
Chapter 3
Documents
The Marquis de Mirabeau, The Friend of Men, or Treatise on Population, 1756
Black Death (1349) Henry Knighton
Maps
Map Discovery: Grain Supply and Trade in Sixteenth Century Europe
Map Discovery: Cereal Crops in Europe
Image
Slave Revolt in Saint Domingue, 1791
Chapter 4
Documents
Voltaire, Letters On England
Voltaire, "On Universal Toleration"
Baron de Montesquieu, Excerpt from The Spirit of the Laws
Voltaire on the Relation of Church and State (Mid-18th Century) Voltaire
Denis Diderot, Preliminary Discourse from the Encyclopedia (France), 1751
Image
Necker Concealing the Deficit – Cartoon, 1789
Chapter 5
Documents
Jean Baptiste Colbert, "Mercantilism: Dissertation on Alliances"
Louis XVI, "A Royal Reform Proposal"
The Execution of Damiens
Richelieu on the Ancien Regime (1904) Richelieu
Maps
Map Discovery: The Seven Years War
Interactive Map: The Seven Years' War
Atlas Map: French America, 1608-1763
Chapter 6
Documents
Robespierre "Speech to National Convention: The Terror Justified" (France), 1794
Thomas Jefferson, Rough Draft of the Declaration of Independence (1776)
Maps
Map Discovery: Revolutionary France
Map Workbook Activity: Abolutism: France, England, and Russia 1600-1700
Image
"Cult of the Supreme Being," French Revolution
Chapter 7
Documents
De Stael on the Ancien Regime (1789) De Stael
Jean Domat, On Social Order and Absolutist Monarchy
The Bill of Rights (1789)
Map
Revolutionary France
Chapter 8
Documents
The National Convention, "Law on Suspects (1793)" and "Law of 22 Prairial Year II (1794)"
Olympe de Gouges, Declaration of the Rights of Woman and the Female Citizen
Map
Map Discovery: The Expansion of Prussia
Images
Death of Marat
French Revolution
Execution by guillotine, France 1929
Chapter 9
Documents
Louis Antoine Fauvelet de Bourrienne, Memoirs of Napolean Bonaporte
Charles Parquin, "Napolean's Army"
Madame de Rémusat on the Rise of Napoleon
Map
Russia's Holdings by 1800
Image
Prussian Soldiers
Chapter 10
Document
Thomas Jefferson, Letter on the Louisiana Purchase
Maps
Map Discovery: Napoleon's Empire
Napoleonic Europe
Atlas Map: Louisiana Purchase and Exploration of the Trans-Mississippi West
Interactive Map: The Louisiana Purchase and Early Exploration of the West
Chapter 11
Document
Napoleon's Exile to St. Helena (1815)
Maps
Geographic Tour: Europe in 1815
Religious Diversity in Western Europe
European Centers of Rebellion and Revolution, 1820-1848
Map Discovery: Population Growth in Europe, 1800-1850
Chapter 12
Documents
Declaration of the Rights of Man and the Citizen 1789
Alexis de Tocqueville, Democracy in America
Maps
Map Workbook Activity: Economic Transformation in Europe 1750-1850
European Industrialization
The European Linen Industry
Chapter 13
Document
Richard Guest, The Creation of the Steam Loom
Maps
Map Discovery: Industrial Revolution on the Continent
Map Discovery: Unrest of the 1820s and 1830s: Centers of Revolutionary Action
Industrial Development in Key Regional Centers, ca. 1900
Industrialization in Europe, ca. 1850
Chapter 14
Documents
Metternich on the Revolutions of 1848
Capitalism Challenged: The Communist Manifesto (1848) Karl Marx and Friedrich Engels
Maps
Interactive Map: World Colonial Empires 1900
European Colonial Territories Before and After 1800
Centers of Revolution, 1848
Image
Louis Napoleon v. General Cavaignac – British Cartoon, 1848
Chapter 15
Documents
Michel Chevalier, Society, Manners, and Politics in the United States
Karl Marx on the Question of Free Trade (1848) Karl Marx
An Ottoman Government Decree Defines the Official Notion of the "Modern" Citizen, June 19, 1870
Maps
Map Discovery: The Crimean War
Video
The Ottoman Tanzimat Period (1839-1876): The Middle East Confronts Modernity
The Decline of the Ottoman Empire
Chapter 16
Documents
August Comte, "Course of Positive Philosophy"
A Letter from Otto von Bismarck (1866) Otto von Bismarck
John Stuart Mill on Enfranchisement of Women (1869) John Stuart Mill
Map
Atlas Map: The Civil War, 1861-1862
Image
Cotton plantation, United States of America
Chapter 17
Maps
Map Discovery: The Expansion of Prussia
Unification of Germany
The Unification of Germany, 1815-1871
The Unification of Germany, 1866-1871
Chapter 18
Documents
Jules Ferry, from Le Tonkin et La Mere-Patrie
Mary Kingsley, Travels in West Africa, (Great Britain and Africa), 1893 and 1895
Map
Vietnam: Divisions in the Nguyen and French Periods
Image
Statue of Liberty Restored
Chapter 19
Documents
Emile Zola, Nana
Pope Leo XIII, Rerum Novarum (Of New Things), 1891
The Great Depression: An Oral Account 1932
Images
Building the Panama Canal
Breaker Boys, Woodward Coal Mines, Kingston, Pa.
Chapter 20
Documents
Doctrine of Fascism (1932) Benito Mussolini
Benito Mussolini, from "The Political and Social Doctrine of Fascism"
Map
Diplomatic Crises, 1905-1914
Images
The Vatican
Raphael Sanzio, Detail from The School of Athens, fresco, Vatican Palace, Rome 1509-11
Chapter 21
Documents
M. Carey Thomas, Higher Education for Women (1901)
On Darwin 1860s
Charles Darwin, Autobiography
Images
Chinese pavilion, 1904 Worlds Fair
Machine exhibit, 1904 Worlds Fair
Pygmies, 1904 World's Fair
Chapter 22
Document
Thomas Edison, The Success of the Electric Light (October 1880)
Maps
Map Discovery: Jewish Migration
Shifting Borders: Eastern Europe After World War I
Video
The Art of Pablo Picasso
Images
Model of Bell's Telephone
Suffragist Speaking
Chapter 23
Documents
The Murder of Archduke Franz Ferdinand at Sarajevo 1914 Borijove Jevtic
Francois Carlotti, from "World War I: A Frenchman's Recollections"
Soldiers' Accounts of Battle (World War I)
Maps
World War I, 1914-1918
European Alliances on the Eve of World War I
Map Discovery: The Schlieffen Plan and France's Plan XVII
Balkans
Video
The Outbreak of World War I
Chapter 24
Documents
American Troops in the Trenches (1918)
Woodrow Wilson, The Fourteen Points (1918)
George Clemenceau, "French Demands at the Peace Conference"
Maps
Europe After World War I
The West and the World: Changes in European Empires After World War I
Image
Woodrow Wilson on his way to Versailles, 1919
Chapter 25
Documents
Henry Cabot Lodge's Objections to Article 10 of the Treaty of Versailles (1919)
Bolshevik Seizure of Power, 1917
Map
Europe in the 1920s and 1930s
Revolution and Civil War in Russia, 1914-1920
Images
Bolshevik Revolution poster
France Demands War Reparations – Cartoon
Chapter 26
Document
Adelheid Popp, "Finding Work: Women Factory Workers
Maps
Atlas Map: The Great Depression
World Distribution of Manufacturing, 1930
Video
Prosperity of the 1920s and the Great Depression
Images
Depression Era Breadlines
Women Workers during World War I
Chapter 27
Document
Mussolini Heaps Contempt on Political Liberalism, 1923
Images
German persecution of the Jews
Spanish Civil War poster
Hitler and Chamberlain, 1938
Hitler at Nuremberg Rally ca. 1928
Chapter 28
Documents
The Holocaust: Memoirs from the Commandant of Auschwitz (1940s) Rudolf Hoess
Winston Churchill, "Their Finest Hour"
Maps
World War II in Europe, 1939-1945
Interactive Map: World War II in Europe
Images
Hitler and Chamberlain, 1938
Hitler celebrating French surrender
Hitler and Mussolini in Munich, 1940
Chapter 29
Maps
Atlas Map: World War II, European Theater
Map Discovery: World War II in Europe
The Nazi Empire in 1942
Video
Normandy Beach, June 6, 1944
Images
D-Day
Eisenhower and Paratroopers in World War II
Operation Overlord, Normandy, 1944
Chapter 30
Documents
Joseph Stalin, excerpts from the "Soviet Victory" Speech, 1946
George C. Marshall, The Marshall Plan, 1947
Map
Post WW2 Division of Austria and Germany
Videos
Truman on the End of World War II
The Big Three Confer – Yalta Conference
Images
Truman, Atlee and Stalin at the Berlin Conference
The Big Three at Yalta
Chapter 31
Documents
Ho Chi Minh on Self Determination
Vietnamese Declaration of Independence (1945) Ho Chi Minh
Resolution Establishing the Viet Minh, 1941
Lyndon Johnson, Message to Congress and the Tonkin Gulf Resolution (1964)
Franklin D. Roosevelt, Fireside Chat (September 6, 1936)
Chapter 32
Documents
American Investigators, from The Effects of Atomic Bombs on Hiroshima and Nagasaki
Franklin Roosevelt, Annual Address to Congress, "The Four Freedoms" (1941)
Map
Germany After World War II
Video
Atomic Bomb at Hiroshima
Images
Atomic bomb mushroom cloud
U.S. Hydrogen Bomb Test over Uninhabited Pacific Island, 1952
Chapter 33
Documents
A Common Market and European Integration (1960)
Fidel Castro Defends the Revolution (1953) Fidel Castro
Fidel Castro: History Will Absolve Me, 1953
Mao Zedong, "A Single Spark Can Start a Prairie Fire," 1953
Maps
Soviet and Eastern European Boundaries by 1948
Atlas Map: Cold War in Europe, 1950
Chapter 34
Documents
Johnson's Defense of the U.S. Presence in Vietnam (1965)
Decision Concerning the Great Proletarian Cultural Revolution (1966)
Maps
Atlas Map: Conflict in the Middle East, 1945-1997
Interactive Map: The Vietnam War
Videos
Newsreel: Peace March, Thousands Oppose Vietnam War
The Vietnam War
Chapter 35
Documents
Alain Destexhe, from Rwanda and Genocide in the Twentieth Century
Ronald Reagan, Speech to the House of Commons (1982)
Ronald Reagan, Address to the National Association of Evangelicals (1983)
Map
Cold War Alliances
Video
Cold War Connections: Russia, America, Berlin and Cuba
Image
Ronald Reagan
Chapter 36
Documents
Treaty on European Union, 1992
European criticism of American environmental policies, 2007
Maps
Events in Eastern Europe, 1989-1990
The European Union in the Europe of 2003
Europe in 2004
Atlas Map: Present-day Europe
Chapter 37
Documents
Justin Vaïsse, from "Veiled Meaning"
Dirty Politics in the 2008 Election (2007)
Map
European Union
Image
European Union Flag
<PREF><TTL>
Purchase Info ?
With CourseSmart eTextbooks and eResources, you save up to 60% off the price of new print textbooks, and can switch between studying online or offline to suit your needs.
Once you have purchased your eTextbooks and added them to your CourseSmart bookshelf, you can access them anytime, anywhere.
Buy Access
A History of Modern France, CourseSmart eTextbook, 4th Edition
Format: Safari Book
$36.99 | ISBN-13: 978-0-205-84688-7