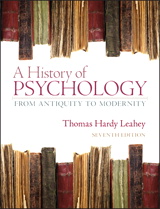 Description
Provides a narrative history of psychology.
A History of Psychology: From Antiquity to Modernity begins tracking psychology from the development of folk psychology as the key adaptation of humans at the dawn of history. It then traces the Classical, medieval, and early modern periods to present day psychology. The text covers scientific, applied, and professional psychology.
Although theoretical and empirical arguments inside psychology about the nature of mind and behavior are not neglected, A History of Psychology shows how psychology's development has been shaped by social, economic, and political forces external to it, and, in turn, how the mature psychology of the late 20th century has begun to shape the society in which it arose. The text carefully examines how issues in psychology reflect and affect concepts that lie outside the technical concerns of psychology as a science and profession.
Learning Goals
Upon completing this text, readers will be able to:
Know the events in the history of scientific, applied, and professional psychology

Understand how psychology's development was shaped by external forces

Describe how psychology has and continues to shape society
Table of Contents
Introductory Essay
Chapter 1: Science, History, and Psychology
Unit I. Background.
Chapter 2: The Legacy of Ancient Greece EEA - 323 BCE
Chapter 3: Antiquity 323 BCE – 1000 CE
Unit I Bibliography
Unit II. Constructing the Modern World.
Chapter 4: The Premodern world 1000 CE - 1600
Chapter 5: The Scientific Revolution 1600 - 1700
Chapter 6: The Enlightenment 1700 - 1815
Chapter 7: The Ascent of Science 1815 – 1914
Unit II Bibliography
Unit III. Founding Psychology
Chapter 8: The Psychology of Consciousness
Chapter 9: The Psychology of the Unconscious
Chapter 10: The Psychology of Adaptation
Unit IV. Psychological Science in the Modern World
Chapter 11: Behaviorism 1892-1956
Chapter 12: Cognitive Science 1956 – 2000
Unit IV Bibliography
Unit V. Applied Psychology in the Modern World
Chapter 13: The Rise of Applied Psychology 1892-1939
Chapter 14: The Psychological Society 1940-2000
Unit V Bibliography
Concluding Thoughts
Purchase Info
ISBN-10: 0-13-243849-6
ISBN-13: 978-0-13-243849-0
Format: Book
This publication is not currently for sale.