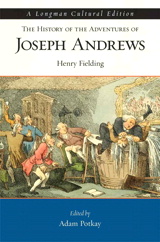 Description
From Longman's Cultural Editions series, The History of the Adventures of Joseph Andrews, edited by Andrew Potkay, presents Henry Fielding's classic work along with a critical introduction and contextual materials on and from the period. The text presented here is the third edition of March 1743, the most reliable and authoritative edition to appear in Fielding's time.
Handsomely produced and affordably priced, the Longman Cultural Editions series presents classic works in provocative and illuminating contexts–cultural, critical, and literary. Each Cultural Edition consists of the complete text of an important literary work, reliably edited, headed by an inviting introduction, and supplemented by helpful annotations; a table of dates to track its composition, publication, and public reception in relation to biographical, cultural and historical events; and a guide for further inquiry and study.
One Longman Cultural Edition can be packaged at no additional cost with any volume of The Longman Anthology of British Literature by Damrosch et al, or at a discount with any other Longman textbook.
See all the Longman Cultural Editions at www.ablongman.com/longmanculturaleditions.
Table of Contents
List of Illustrations
About This Edition
Introduction
A Note on Money in Fielding's Novel
A Note on Fielding's Punctuation and Style
Henry Fielding: Table of Dates
The History of the Adventures of JOSEPH ANDREWS, and of his Friend Mr. Abraham Adams
Preface
Table of Contents
Book 1
Book 2
Book 3
Book 4
Contexts
The Romance Tradition
HELIODORUS, from The Adventures of Theagenes and Chariclia
CERVANTES, from The History of the Renowned Don Quixote de la Mancha
"Of Don Quixote's first Sally"
On "Books of Knight-Errantry" and the Epic in Prose
PAUL SCARRON, from Le Roman Comique
Ethics and Theology
JOHN TILLOTSON, from Sermon XVIII, "The Example of Jesus in Doing Good"
ANTHONY ASHELY COOPER, third earl of SHAFTESBURY, from An Inquiry concerning Virtue and Merit
HENRY FIELDING, from The Champion (March 27, 1740)
HENRY FIELDING, from Essay on the Knowledge of the Characters of Men
GEORGE WHITEFIELD, from Sermon, "Of our New Birth in Christ Jesus"
The Psychology of Laughter
From JOSEPH ADDISON, Spectator no. 47 (April 24, 1711)
What Contemporaries Said
PIERRE-FRANCOIS GUYOT DESFONTAINES, review of Joseph Andrews (July 1743)
FRANCIS COVENTRY, from An Essay on the New Species of Writing founded by Mr. Fielding
SARAH FIELDING, from The Cry: A New Dramatic Fable
JAMES BOSWELL, from The Life of Dr. Johnson
Further Reading