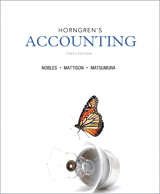 Description
For Principle of Accounting Courses (Sole Proprietorship).
The trusted choice for "I Get It!" moments!
With its tried-and-true framework and respected author team, Horngren/Harrison/Oliver's
Accounting
–when combined with MyAccountingLab–is the trusted choice for instructors and students of Principles of Accounting.
Table of Contents
1. Accounting and the Business Environment
2. Recording Business Transactions
3. The Adjusting Process
4. Completing the Accounting Cycle
5. Merchandising Operations
6. Merchandise Inventory
7. Accounting Information Systems
8. Internal Control and Cash
9. Receivables
10. Plant Assets, Natural Resources, and Intangibles
11. Current Liabilities and Payroll
12. Partnerships
13. Corporations
14. Long-Term Liabilities
15. Investments
16. The Statement of Cash Flows
17. Financial Statement Analysis
18. Introduction to Managerial Accounting
19. Job Order Costing
20. Process Costing
21. Cost-Volume-Profit Analysis
22. Master Budgets
23. Flexible Budgets and Standard Cost Systems
24. Cost Allocation and Responsibility Accounting
25. Short-Term Business Decisions
26. Capital Investments Decisions
Purchase Info ?
With CourseSmart eTextbooks and eResources, you save up to 60% off the price of new print textbooks, and can switch between studying online or offline to suit your needs.
Once you have purchased your eTextbooks and added them to your CourseSmart bookshelf, you can access them anytime, anywhere.
Buy Access
Horngren's Accounting, CourseSmart eTextbook, 10th Edition
Format: Safari Book
$134.99 | ISBN-13: 978-0-13-311742-4