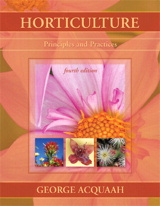 Description
For undergraduate courses in Introduction to Horticulture, Introduction to Plant Science, and Principles of Crop Production.
This comprehensive introduction to horticulture as a science, art, and business covers all the essential principles and practices of the field. It discusses aspects pertaining to both indoor and outdoor production and provides sound scientific background of modern horticulture. Vividly illustrated throughout, the emphasis is on the underlying science-including current technology-and how it is applied in practical horticulture. This edition has been significantly revised to include four new chapters, a reorganized Part 7 and contributions from leading industry professionals.
Table of Contents
I. THE UNDERLYING SCIENCE.
1. What Is Horticulture?
2. Classifying and Naming Horticultural Products.
3. Plant Anatomy.
4. Plant Growth Environment.
5. Plant Physiology.
6. Breeding Horticultural Plants
II. PROTECTING HORTICULTURAL PLANTS.
7. Biological Enemies of Horticultural Plants.
8. Principles and Methods of Disease and Pest Control.
III. PROPAGATING HORTICULTURAL PLANTS.
9. Sexual Propagation.
10. Asexual Propagation.
IV. GROWING PLANTS INDOORS.
11. Growing Houseplants.
12. Controlled-Environment Horticulture.
13. Greenhouse Production
14. Growing Succulents.
V. GROWING PLANTS OUTDOORS: ORNAMENTALS.
15. Principles of Landscaping.
16. Nursery Production.
17. Installation of the Landscape
18. Turf Production and Use.
19. Pruning.
VI. GROWING PLANTS OUTDOORS: VEGETABLES, FRUITS, AND NUTS.
20. Growing Vegetables Outdoors.
21. Herb Gardening.
22. Organic Farming.
23. Establishment and Management of an Orchard
VII. SPECIAL TECHNIQUES AND HANDLING OF HORTICULTURAL PRODUCTS.
24. Floral Design.
25. Terrarium Culture
26. Bonsai: The Art of Miniature Plant Culture
27. Post-Harvest Handling of Horticultural Products
Purchase Info ?
With CourseSmart eTextbooks and eResources, you save up to 60% off the price of new print textbooks, and can switch between studying online or offline to suit your needs.
Once you have purchased your eTextbooks and added them to your CourseSmart bookshelf, you can access them anytime, anywhere.
Buy Access
Horticulture: Principles and Practices, CourseSmart eTextbook, 4th Edition
Format: Safari Book
$75.99 | ISBN-13: 978-0-13-502200-9