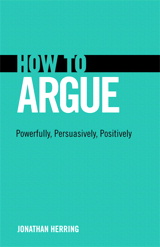 Description
In this book, readers will learn the golden rules of successful arguing and will explore a wide range of scenarios where arguments may happen. They find out how to recognize the difference between a proper argument and a good old-fashioned row, how to approach an argument confidently, get your point across convincingly, keep your emotions in check, and know when it's time to back down. This is a fun, entertaining, and no-holds-barred guide to everything you need to know about arguing. This book is written by a leading lawyer who has had first-hand experience with some of the toughest arguments.
Table of Contents
Introduction v
Part 1: The ten golden rules of argument
Chapter 1 Golden Rule 1: Be prepared 3
Chapter 2 Golden Rule 2: When to argue, when to walk away 15
Chapter 3 Golden Rule 3: What you say and how you say it 25
Chapter 4 Golden Rule 4: Listen and listen again 41
Chapter 5 Golden Rule 5: Excel at responding to arguments 53
Chapter 6 Golden Rule 6: Watch out for crafty tricks 65
Chapter 7 Golden Rule 7: Develop the skills for arguing in public 89
Chapter 8 Golden Rule 8: Be able to argue in writing 95
Chapter 9 Golden Rule 9: Be great at resolving deadlock 103
Chapter 10 Golden Rule 10: Maintain relationships 111
Part 2: Situations where arguments commonly arise
Chapter 11 How to argue with those you love 121
Chapter 12 How to argue with your children 131
Chapter 13 Arguments at work 145
Chapter 14 How to complain 153
Chapter 15 How to get what you want from an expert 165
Chapter 16 Arguing when you know you're in the wrong 175
Chapter 17 Arguing again and again 183
Chapter 18 Doormats 195
Chapter 19 How to be a good winner 205
Chapter 20 To recap 211
Index 215
Purchase Info ?
With CourseSmart eTextbooks and eResources, you save up to 60% off the price of new print textbooks, and can switch between studying online or offline to suit your needs.
Once you have purchased your eTextbooks and added them to your CourseSmart bookshelf, you can access them anytime, anywhere.
Buy Access
How to Argue: Powerfully, Persuasively, Positively, CourseSmart eTextbook
Format: Safari Book
$12.49 | ISBN-13: 978-0-13-298095-1