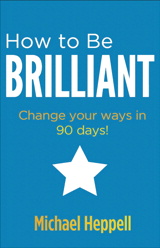 Description
Sometimes being just 'good' just isn't good enough. Sometimes we all need to be brilliant.
In just 90 days, How To Be Brilliant will show you how to change the way you think and behave so that you can embrace every day, every experience and every opportunity with positivity, energy, enthusiasm and inspiration.
Michael Heppell, author of the bestselling book Flip It, will introduce you to over 50 amazing tricks, tips and tools that, when properly applied, will move you and your life on to a whole new, exciting level.
This is the level where you really shine. It's the level where you believe anything is possible. And it's the level where you start living your dreams and becoming the person you always wished you could be.
So don't just be good; learn to be brilliant and discover a better way of being.
Table of Contents
About the author
So why a revised edition?
Preface
Introduction
1 A brilliant life balance
2 The five characteristics of brilliant people
3 Brilliant goal-setting
4 Time to be brilliant
5 Brilliant belief systems
6 Brilliant rock-busting
7 I need your help
8 Brilliant values
9 Brilliant teams
10 Brilliant vision
11 Brilliance into action: Time for a review
12 How to be 'brilliant-er': The next level!
13 Overcoming obstacles: What stops brilliance?
14 Brilliant life lessons
15 Brilliance uncovered
How to Be Brilliant exercise checklist
Appendix: Michael Heppell Ltd company values
Thank you to …