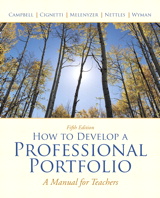 Description
This versatile and practical book provides clear, manageable guidelines and tips for professional portfolio development that can be followed by teachers at all stages of their careers.
Since 1997, How to Develop a Professional Portfolio: A Manual for Teachers has been a leading source of information for teachers who need guidance in creating a portfolio that showcases their professional abilities. In seven concise chapters, this book offers preservice and in-service teachers step-by-step procedures for portfolio development, using national teaching standards as the organizing system, and offers teachers an extensive list of pragmatic artifact possibilities to showcase their professional growth.
Table of Contents
Contents
1 What You Need to Know about Portfolios 1
Why Portfolios?
What Is a Portfolio?
How Do I Organize My Portfolio?
What Evidence Should I Include in My Portfolio?
Who Is the Audience for My Portfolio?
How Might I Use My Portfolio?
Try This
2 Guidelines for Assembling Your Portfolio
How to Use This Chapter
Creating the Working Portfolio
Creating the Presentation Portfolio
Try This
3 Choosing Standards for Your Portfolio
What are Standards?
What is Standards-Based Education?
What is a Standards-Based Portfolio?
Try This
4 Organization of Portfolios around Teaching Standards
How to Use This Chapter
How This Chapter Is Organized
Knowledge of Subject Matter
Knowledge of Human Development and Learning
Adapting Instruction for Individual Needs
Multiple Instructional Strategies
Classroom Motivation and Management
Communication Skills
Instructional Planning Skills
Assessment of Student Learning
Professional Commitment and Responsibility
Partnerships
Try This
5 Artifact Possibilities
How to Use This Chapter
Types of Artifacts
6 Using the Portfolio throughout a Teaching Career
The Full Potential of Portfolios
Using the Portfolio While in a Teacher Education Program
Using the Portfolio When Interviewing for a Teaching Position
Using the Portfolio during Inservice Teaching
Try This
7 Electronic Portfolios
Definition of Electronic Portfolios
Advantages of Electronic Portfolios
Disadvantages of Electronic Portfolios
Creation of Electronic Portfolios
Stages for Developing Electronic Portfolios
Try This
Appendices
Appendix A: NCATE-Affiliated Professional Organizations
Appendix B: Developing Your "Portfolio at a Glance"
Appendix C: Glossary