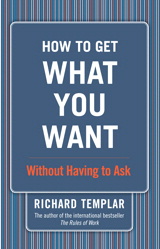 Description
Tired of not getting what you want? Don't know how to ask for it? Best-selling author Richard Templar brings his inimitable blend of originality, imagination, wisdom, and straight talk to the challenges of negotiation, persuasion, and influence. Templar offers up 100 clever, simple, pain-free ways to get people to happily say "yes" to you!
Templar is the world-renowned author of best-sellers like The Rules of Money and The Rules of Life. In this new book, he offers practical principles and strategies covering a wide range of situations, both at work and beyond. You'll learn how to get what you want without saying a word… and, for those rare occasions when you have to ask, you'll find the techniques and words that'll get the job done. Every solution gets its own "bite-size" two-page spread, making this book incredibly easy to read--and use.
Some people seem to get what they want consistently and effortlessly. It's not luck: it's knowing how. Read this fresh, funny, and relentlessly practical book, and you'll know how, too.
Table of Contents
Introduction 1
PART 1: Be the Kind of Person Who Gets What They Want 4
Know What You Want 6
Know Why You Want It 8
Know How Much You Want It 10
Want What You Get 12
Don't Be a Fuzzy Thinker 14
Know What It Takes 16
Work Out Who You Need on Your Side 18
Break Big Ambitions into Chunks 20
Set Up Some Milestones 22
Celebrate Every Step 24
Write It All Down 26
Analyze Your Sticking Points 28
Set Your Deadlines 30
Check Out the Back Door 32
Don't Make Excuses 34
Think Positive 36
Don't Hang Out with Naysayers 38
Say It Out Loud 40
Believe in Yourself 42
Expect Ups and Downs 44
Enjoy It When You Get It 46
PART 2: Be the Kind of Person People Want to Say Yes To 48
Don't Fake It–Have Real Confidence 50
Sound Confident 52
Look Confident 54
Learn to Say No 56
Give Them an Alternative 58
Be a Broken Record 60
Be Sure You're Sorry 62
Say What You Mean 64
Think Before You Speak 66
Be Prepared to Disagree 68
Control Yourself 70
Express Yourself 72
Don't Use Emotional Blackmail… 74
…and Don't Give In to It 76
Treat People with Respect 78
Have Plenty of Time 80
Be Likeable 82
Have a Sense of Humor 84
Be Honest 86
Always Say Thank You 88
Don't Do Too Much 90
Give a Bit Extra 92
Be Generous 94
Praise but Don't Flatter 96
Be Loyal 98
Don't Talk Behind People's Backs 100
Learn to Take Criticism Well 102
Admit Your Mistakes 104
Get to Know People 106
Learn to Listen Properly 108
Know What You've Agreed To 110
Pick Up the Signals 112
Sympathize with Other People's Anger 114
Don't Respond to Tactical Anger 116
Give Other People Results 118
Be Part of Your Organization 120
Work Hard 122
Work Right 124
Be Worth It 126
PART 3: Help Them to Say Yes 128
Make Sure You're Getting Through to Them 130
And Make Sure They're Getting Through to You 132
Think About Why They'd Say No 134
Show You Understand 136
Be Objective 138
Give Them an Excuse to Make an Exception 140
Solve Their Problems 142
Read the Clues 144
Learn What Gets Them Going 146
Use the Right Words 148
Get the Timing Right 150
Tell Them What You Want Without Asking 152
Don't Keep Dropping Hints 154
Make It Hypothetical 156
Ask Questions 158
Ask for Advice Instead of a Job 160
Get Someone to Do the Asking for You 162
Tell Them You Need Them 164
Don't Rush Them 166
Give Them What They Want 168
Make Them Think It Was Their Idea 170
Discourage Their Bad Ideas 172
Find Out What It Will Take 174
Get a Team Behind You 176
PART 4: And If You Really Do Have to Ask… 178
Be Clear What You're Asking 180
Pick Your Moment 182
Make a Date 184
Know When to Put It Off 186
Keep to the Script 188
Rehearse It 190
Rehearse Their Answer 192
Don't Go On About It 194
Get the Essentials on Paper 196
Have a Bottom Line 198
Ask for More Than You Want 200
Don't Make Empty Threats 202
Think About It 204
Put the Decision in Writing 206
Be Ready to Be Decisive 208
Don't Give Up 210
Purchase Info
ISBN-10: 0-13-282454-X
ISBN-13: 978-0-13-282454-5
Format: eBook (Watermarked)
$18.99
You can purchase immediate access to this online product with a credit card at the link above.
Buy Access