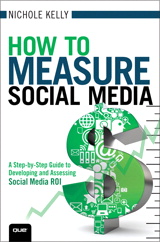 Description
Your 100% Actionable, Proven Framework for Delivering Rock-Solid Social Media Business Metrics—Painlessly
Think social marketing is worth it? Prove it. If your boss hasn't demanded that yet, he will. Then what? Hand him some jive about "return on conversation"? Think that'll fly? You'll be gone so fast you won't know what hit you. You know damn well what your boss cares about: Sales Volume. Costs. Revenue. This book will help you measure all that: credibly, accurately, and in drill-down detail.
Bet you can't wait to see his face when you walk in with metrics that stand up to his most brutal questions. We're not just talking about getting "buy-in" or begging for your proverbial "seat at the table." We are talking about numbers that make careers. This book will prove your indispensability to even the most clueless executive in your company.
Here's the best part: It's not hard. You won't need to become a math nerd. The tools are cheap (or free), and you're probably sitting on most of the data. This book will give you everything else, including simple step-by-step techniques for creating measurable strategies and getting the data to prove they deliver. You'll also get super helpful hands-on exercise worksheets where you can jot down your answers and notes. Nichole Kelly has been refining this stuff for 14 years. She's helped hundreds of marketers prove their value to bosses and boardrooms. Now it's your turn.
If you're a marketer or agency pro, this is a game you have to play. Win it.
Reliable answers to questions like:
How much revenue did our activities on social media platforms generate this month?
Are social media prospects more likely to convert to customers?
Which status update delivered the highest conversion rate?
How long do we retain new social media customers?
Do they spend more or less than customers from other channels?
Do they make repeat purchases more often than other customers?
And much more…
Table of Contents
Introduction 1
I Aligning Social Media with Core Business Objectives
1 Aligning Social Media Strategies to Business Goals 11
Setting Social Media Goals 12
Goal 1: Increase Brand Awareness 14
Goal 2: Generate More Leads 16
Retaining Your Existing Customers 20
How Do I Know Which Goal Is Right for My Company? 21
Goal 3: Increasing Customer Retention 21
Selecting the Right Social Media Goal 23
Hands-On Exercise: Selecting a Social Media Goal 29
Activity 1: Plot Existing Marketing Tactics 29
Activity 2: SWOT Analysis 30
2 Aligning Social Media to the Sales Funnel 33
Where Brand Awareness Fits 35
Exposure 35
Influence 36
Engagement 37
Action/Conversion 40
Customer Retention 41
Hands-On Exercise: Aligning the Funnel with Communications 47
Activity 1: Chart Existing Communications 48
Activity 2: Identify Communications Pieces That Don't Work With Contacts Who Touched the Social Media Channel 48
Activity 3: Determine Metrics to Evaluate Where People Fall Out of the Funnel 48
3 Social Media for Brand Awareness 51
Reality Check No. 1: No One Cares About Your Brand 52
Reality Check No. 2: You Have Lost Control of Your Brand 52
Where Brand Awareness Fits into the Funnel 53
Types of Brand Awareness 54
Where Social Media Fits into Brand Awareness Campaigns 54
Where Social Media Fits into Reputation Management 57
Developing a Measureable Strategy for a Brand Awareness Campaign 59
Create a Listening Station 59
Interpret the Conversation 60
Why Listening Matters 61
Refine Your Brand Awareness Goal 61
Define Niches Within Your Target Market 61
Define Social Media Channels 63
Define Success Metrics 63
Define Your Strategy 65
Define How You Will Do It 65
Flesh It Out 66
Developing a Measureable Strategy for Reputation Management 66
Develop a Listening Station 66
Outline the Types of Reputation Management You Will Focus On 67
Create Social Media Accounts Before You Need Them 68
Define Success Metrics 68
Define Your Strategy 69
Define How You Will Do It 69
Flesh It Out 70
Organize Your Plans 70
Hands-On Exercise: Prioritizing Brand
Awareness Strategies 71
Strategy Evaluation Matrix 72
4 Measuring Social Media for Brand Awareness 75
Community Manager 76
Executive Management Team Metrics 76
Translating Social Media for Executives 76
Social Media Is Just Another Channel 77
Don't Measure Social Media in a Silo 77
The Goal of Brand Awareness Campaigns 77
Complementary Marketing Channels 78
The Goal of Reputation Management 79
Calculating Cost per Impression 81
Calculating Cost per Engagement 82
Calculating Cost per Conversion 82
Handling Salaries in Cost Metrics 82
Hands-On Exercise: Aligning Social Media Metrics to Metrics That Matter 83
5 Social Media for Lead Generation 87
Where Lead Generation Fits into the Funnel 88
Understanding Social Media Lead Generation 88
Handling Social Media Leads 90
Soft Leads 90
Hard Leads 91
Content That Indicates Purchase Intent for HubSpot 91
How to Kill the Sale 93
Developing a Measurable Strategy for Lead Generation 93
Promotional Content 93
Informative Content 94
Decision-Making Content 95
Where Does Lead Scoring Fit? 96
Slow Leads 96
Medium Leads 96
Fast Leads 97
Types of Lead Scoring Models 97
Optimizing the Path to Conversion 97
Defining Success Metrics 99
Define Your Strategy 100
Define How You Will Do It 102
Flesh It Out 102
Organize Your Plans 102
Hands-On Exercise: Prioritizing Lead Generation Strategies 103
Strategy Evaluation Matrix 104
6 Measuring Social Media for Lead Generation 107
Identifying Lead Potential 108
Slowest Leads 109
Slow Leads 109
Medium Leads 110
Fast Leads 110
Closed Leads 110
Lead Scoring 110
Types of Lead Scoring Models 111
Points-Based Lead Scoring 111
Activity-Based Lead Scoring 112
Manual Lead Scoring 112
Hybrid Lead Scoring 112
It's Okay to Keep It Simple 113
Hands-On Exercise: Aligning Social Media Leads to the Sales Funnel 116
Hands-On Exercise: Aligning Marketing Lists to Lead Categories 116
List Management 117
7 Customer Service, Referrals, and Strategies for Increasing Revenue from Existing Customers 121
Where Customer Retention Fits into the Funnel 122
Understanding Customer Retention 123
Developing a Measureable Strategy for Customer Retention 124
Provide Customer Service 124
Turn Customers into Revenue 129
Use Referral Strategies 130
Spend More Money at Each Purchase 133
Make More Frequent Purchases 133
Define Your Goal for Customer Retention 135
Listen 135
Define Success Metrics 135
Define Your Strategy 137
Define How You Will Do It 138
Flesh It Out 138
Organize Your Plans 139
Create Planning Documents 139
Hands-On Exercise: Prioritizing Customer Retention Strategies 140
8 Measuring Strategies for Increasing Revenue from Existing Customers 143
Where Customer Revenue Generation Strategies Fit into the Organization 144
Finding Your Key Metrics 144
Manager Metrics 145
Executive Metrics 147
Why This Is Going to Be Difficult but Not Impossible 148
What If You Can't Separate Customers Who Touch Your Social Media Channels? 149
Hands-On Exercise: Finding Customer Retention Metrics 149
Getting the Reports You Need 150
II Tools for Collecting Metrics
9 Breaking Down the Barriers to Social Media Measurement 155
You Are the Problem 156
Standards Are the Problem 157
Confusion Between Measurement and Monitoring Tools Is the Problem 157
Lack of Maturity in Measurement Tools Is the Problem 158
Social Media Silos Are the Problem 159
The Path to Conversion Is the Problem 160
Your Systems Are the Problem 161
Don't Stop Now 162
Hands-On Exercise: Finding and Overcoming Your Barriers 163
10 Understanding the Dots That Need to Connect to Facilitate End-to-End Measurement 167
Why Full Campaign History Is Important 168
What Dots Need to Connect 169
Is Getting Full Campaign History into Your CRM System Really Possible? 171
Finding Opportunities for Integration 172
Conducting a System Audit 174
Prioritizing Data Initiatives 175
Hands-On Exercise: Systems Audit 177
System Audit Worksheet 177
Finding Integration Opportunities 177
11 Measurement Tool Review 181
Argyle Social Review 182
Overview 182
Overall Measurement Features (3.7 Stars) 184
Reporting Features (2 Stars) 185
Conversion Reporting (2 Stars) 186
Expion 187
Overview 187
Overall Measurement Features (3.6 Stars) 188
Reporting Features (3.2 Stars) 190
Raven Tools 191
Overview 192
Overall Measurement Features (3.3 Stars) 193
Reporting Features (2.5 Stars) 194
Social Snap 196
Overview 196
Overall Measurement Features (4.3 Stars) 197
Reporting Features (3.9 Stars) 199
Tracx 201
Overview 201
Overall Measurement Features (2.2 Stars) 202
Reporting Features (3.1 Stars) 203
Summary 204
Hands-On Exercise: Measurement Tool Worksheet 204
12 A Great Starter Mix of Tools for Less Than $10 a Month 207
Why HootSuite Pro Is a Crucial Part of the Mix 208
Validating Google Analytics Setup 208
Integrating HootSuite with Google Analytics 211
Start Tracking 212
Sample A 214
Sample B 214
Sample C 214
Limitations 215
Getting the Data 215
Hands-On Exercise: Create a System for Using Custom URL Parameters 217
Source 218
Medium 219
Campaign 220
Bonus Tip: Track the Exact Status Update That Drove a Conversion 221
13 Creating a Cross-Functional Measurement Dashboard 223
Hands-On Exercise: Build Your Dashboard 229
14 Tying It All Together 231
Hands-On Exercise: Social Media ROI Assessment 233
Index 235


Purchase Info
ISBN-10: 0-13-309981-4
ISBN-13: 978-0-13-309981-2
Format: Safari PTG
This publication is not currently for sale.