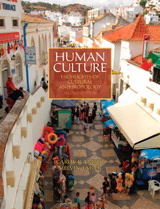 Description
A Brief Empirical Introduction to Cultural Anthropology
Human Culture presents the highlights of the popular Cultural Anthropology, 13th edition by the same author team. It provides students with an empirical introduction to cultural anthropology, and helps them understand humans in all their variety - and why such variety exists.
This new 2nd edition places an increased emphasis on immigration, migration and globalization. Additionally, the size of the book (13 chapters) makes it useful for quarter courses, as well as for courses that encourage a lot of supplemental reading.
Teaching and Learning Experience
Personalize Learning - MyAnthroLab delivers proven results in helping students succeed, provides engaging experiences that personalize learning, and comes from a trusted partner with educational expertise and a deep commitment to helping students and instructors achieve their goals.

Improve Critical Thinking — Throughout each chapter in Human Culture there are a number of critical thinking questions to encourage students to examine their assumptions, discern hidden values, evaluate evidence, assess their conclusions, and more!

Engage Students — Along with a detailed summary, each chapter ends with a listing of new terms that have been introduced; helping students to engage in major concepts and findings.

Support Instructors - Teaching your course just got easier! You can create a Customized Text or use our Instructor's Manual, Electronic "MyTest" Test Bank or PowerPoint Presentation Slides. Additionally, the size of the book (13 chapters) makes it useful for quarter courses, as well as for courses that encourage a lot of supplemental reading.
Note: MyAnthroLab does not come automatically packaged with this text. To purchase MyAnthroLab, please visit www.MyAnthroLab.com or you can purchase a valuepack of the text + MyAnthroLab (9780205253029)
Table of Contents
BRIEF TABLE OF CONTENTS:

Part I Introduction
Chapter 1: The Importance of Anthropology
Chapter 2: Culture and Culture Change
Chapter 3: Explanation and Evidence

Part II Cultural Variation
Chapter 4: Language and Communication
Chapter 5: Economics
Chapter 6: Social Stratification: Class, Ethnicity, and Racism
Chapter 7: Sex and Gender
Chapter 8: Marriage, Family, and Kinship
Chapter 9: Political Life
Chapter 10: Religion and Magic
Chapter 11: The Arts

Part III Using Anthropology

Chapter 12: Global Problems
Chapter 13: Applied and Practicing Anthropology
Purchase Info
ISBN-10: 0-205-25302-4
ISBN-13: 978-0-205-25302-9
Format: Book
Digital Choices ?
MyLab & Mastering with Pearson eText is a complete digital substitute for a print value pack at a lower price.
MyLab & Mastering ?
MyLab & Mastering products deliver customizable content and highly personalized study paths, responsive learning tools, and real-time evaluation and diagnostics. MyLab & Mastering products help move students toward the moment that matters most—the moment of true understanding and learning.
+ Other Options
eTextbook ?
With CourseSmart eTextbooks and eResources, you save up to 60% off the price of new print textbooks, and can switch between studying online or offline to suit your needs.
Once you have purchased your eTextbooks and added them to your CourseSmart bookshelf, you can access them anytime, anywhere.