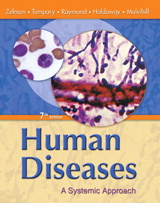 Description
This book presents the basic principles of human disease, organized by human organ system. It provides practical information for both health career and non-professional readers—unlike other books, which are generally too high level or specialized for this purpose. New to this edition are: new diagnostic tests and lab procedures; enhanced coverage in treatment and diagnostic sections in disorders to include common treatments and general pharm options; increased coverage of disease statistics, prevalencies, risk factors for diseases and conditions; addition of prevention and aging to Diseases at a Glance table at the end of each chapter; A new page will be added at the end of each chapter which walks the readers through the multimedia resources that are available for each chapter; and much more!
Table of Contents
Brief TOC
Mulvihill's Human Diseases: A Systemic Approach 7e
PART I: Mechanisms of Disease
1. Introduction to Disease MZ
2. Immunity, Inflammation, and Immune Disorders JR
3. Infectious Diseases JR
4. Neoplasms ET
5. Heredity and Disease PH
PART II: Diseases of the Systems
6. Diseases of the Cardiovascular System ET
7. Diseases of the Blood ET
8. Diseases of the Respiratory System PH
9. Diseases of the Digestive System MZ
10. Diseases of the Urinary System PH
11. Diseases of the Reproductive System JR
12. Diseases of the Endocrine and Metabolic System ET
13. Diseases of the Nervous System and Special Senses PH
14. Mental Illness MZ
15. Diseases of the Bones, Joints, and Muscles MZ
16. Diseases of the Skin JR
Appendices
A. Glossary
B. Answers to Interactive Activities
C. Laboratory Tests and Diagnostic Procedures
D. Index
Purchase Info
ISBN-10: 0-13-515556-8
ISBN-13: 978-0-13-515556-1
Format: Book
Digital Choices ?
MyLab & Mastering with Pearson eText is a complete digital substitute for a print value pack at a lower price.
MyLab & Mastering ?
MyLab & Mastering products deliver customizable content and highly personalized study paths, responsive learning tools, and real-time evaluation and diagnostics. MyLab & Mastering products help move students toward the moment that matters most—the moment of true understanding and learning.