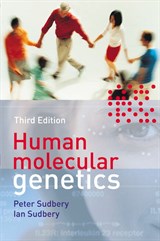 Description
This third edition of Human Molecular Genetics continues to provide a clear introduction to this complex and fast moving field. Now updated and revised throughout, the material covered has been carefully selected and structured to provide a concise overview for students studying the subject as part of a general biology, genetics or medical degree.
The text is aimed at courses in Human Genetics, Human Molecular Genetics and The Molecular Basis of Disease taught within Biology, Biochemistry, Biomolecular Sciences, Biomedical Sciences, Genetics and medical and other health-care degrees.
Table of Contents
Human genetic disease
An introduction to the structure of the human genome
Mapping the human genome
The sequence of the human genome
Single-gene disorders
The genetic components of complex diseases
Small RNAs in human genetics
Genetic testing
Gene therapy
Human population genetics and evolution
DNA profiling in forensic criminology
Human genetics and society
Purchase Info ?
With CourseSmart eTextbooks and eResources, you save up to 60% off the price of new print textbooks, and can switch between studying online or offline to suit your needs.
Once you have purchased your eTextbooks and added them to your CourseSmart bookshelf, you can access them anytime, anywhere.
Buy Access
Human Molecular Genetics CourseSmart eTextbook, 3rd Edition
Format: Safari Book
$66.99 | ISBN-13: 978-1-4479-1409-9