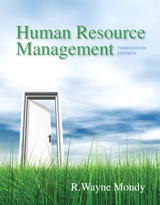 Description
For undergraduate courses in Human Resources Management.

The most student accessible HRM text on the market!

There is no greater asset to a company than its employees—which is why Human Resource Management shows readers how to maximize a firm's potential through identifying and keeping an ideal workforce.

Table of Contents
I. INTRODUCTION 1. Strategic Human Resource Management: An Overview II. ETHICAL, SOCIAL, AND LEGAL CONSIDERATIONS 2. Business Ethics and Corporate Social Responsibility 3. Workforce Diversity, Equal Employment Opportunity, and Affirmative Action III. STAFFING 4. Job Analysis, Strategic Planning, and Human Resource Planning 5. Recruitment 6. Selection IV. HUMAN RESOURCE DEVELOPMENT 7. Training and Development . Performance Management and Appraisal V. COMPENSATION 9. Direct Financial Compensation 10. Indirect Financial Compensation (Benefits) and Non -Financial Compensation VI. SAFETY AND HEALTH 11. A Safe and Healthy Work Environment VII. EMPLOYEE AND LABOR RELATIONS 12. Labor Unions and Collective Bargaining 13. Internal Employee Relations VIII. OPERATING IN A GLOBAL ENVIRONMENT 14. Global Human Resource Management
Purchase Info ?
With CourseSmart eTextbooks and eResources, you save up to 60% off the price of new print textbooks, and can switch between studying online or offline to suit your needs.
Once you have purchased your eTextbooks and added them to your CourseSmart bookshelf, you can access them anytime, anywhere.
Buy Access
Human Resource Managemen, CourseSmart eTextbook, 13th Edition
Format: Safari Book
$98.99 | ISBN-13: 978-0-13-306326-4