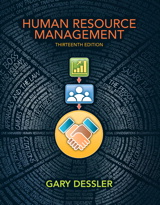 Description
Authoritative and current information on Human Resource Management that ALL managers can use.
This best-selling HRM text is designed to provide authoritative and accurate information on HR-related responsibilities and personnel management by focusing on practical applications, concepts, and techniques that ALL managers can use in business.
More than 100 new topics can be found throughout this edition, along with new features and video cases.
Table of Contents
PART ONE: INTRODUCTION
Chapter 1: Introduction to Human Resource Management
Chapter 2: Equal Opportunity and the Law
Chapter 3: The Manager's Role in Strategic Human Resource Management
PART TWO: RECRUITMENT AND PLACEMENT
Chapter 4: Job Analysis
Chapter 5: Personnel Planning and Recruiting
Chapter 6: Employee Testing and Selection
Chapter 7: Interviewing Candidates
PART THREE: TRAINING AND DEVELOPMENT
Chapter 8: Training and Developing Employees
Chapter 9: Performance Management and Appraisal
Chapter 10: Coaching, Careers, and Talent Management
PART FOUR: COMPENSATION
Chapter 11: Establishing Strategic Pay Plans
Chapter 12: Pay for Performance and Financial Incentives
Chapter 13: Benefits and Services
PART FIVE: EMPLOYEE RELATIONS
Chapter 14: Ethics, Justice, and Fair Treatment in HR Management
Chapter 15: Labor Relations and Collective Bargaining
Chapter 16: Employee Safety and Health
Chapter 17: Managing Global Human Resources
Chapter 18: Managing Human Resources in Entrepreneurial Firms
This title is also sold in the various packages listed below. Before purchasing one of these packages, speak with your professor about which one will help you be successful in your course.
Package ISBN-13: 9780133116168
Includes this title packaged with:
Interpretive Simulations Access Code Card Group B
INTERPRETIVE
$299.93 | Add to Cart
Purchase Info
ISBN-10: 0-13-266821-1
ISBN-13: 978-0-13-266821-7
Format: Alternate Binding
Digital Choices ?
MyLab & Mastering with Pearson eText is a complete digital substitute for a print value pack at a lower price.
MyLab & Mastering ?
MyLab & Mastering products deliver customizable content and highly personalized study paths, responsive learning tools, and real-time evaluation and diagnostics. MyLab & Mastering products help move students toward the moment that matters most—the moment of true understanding and learning.
+ Other Options
eTextbook ?
With CourseSmart eTextbooks and eResources, you save up to 60% off the price of new print textbooks, and can switch between studying online or offline to suit your needs.
Once you have purchased your eTextbooks and added them to your CourseSmart bookshelf, you can access them anytime, anywhere.