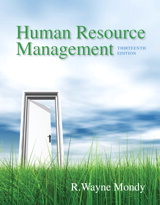 Description
Directed primarily toward undergraduate business or management majors, this text also provides practical content to current and aspiring industry professionals. There is no greater asset to a company than its employees—which is why Human Resource Management shows readers how to maximize a firm's potential through identifying and keeping an ideal workforce. The new edition reflects many recent changes in the industry, across the country, and around the globe, including the 2012 national elections, continuing economic uncertainly, technological changes including an increase in mobile recruiting and learning, and the integral role that social media tools such as wikis, blogs, LinkedIn Facebook, and Twitter now play in the field of HR. The book provides helpful insights for those who aspire to management positions.
Note: This is the standalone book, if you want the book/access card order the ISBN below:
0133254119 / 9780133254112 Human Resource Management Plus NEW MyManagementLab with Pearson eText -- Access Card Package
Package consists of
0133043541 / 9780133043549 Human Resource Management
0133086739 / 9780133086737 NEW MyManagementLab with Pearson eText -- Access Card -- for Human Resource Management
Table of Contents
I. INTRODUCTION 1. Strategic Human Resource Management: An Overview II. ETHICAL, SOCIAL, AND LEGAL CONSIDERATIONS 2. Business Ethics and Corporate Social Responsibility 3. Workforce Diversity, Equal Employment Opportunity, and Affirmative Action III. STAFFING 4. Job Analysis, Strategic Planning, and Human Resource Planning 5. Recruitment 6. Selection IV. HUMAN RESOURCE DEVELOPMENT 7. Training and Development . Performance Management and Appraisal V. COMPENSATION 9. Direct Financial Compensation 10. Indirect Financial Compensation (Benefits) and Non -Financial Compensation VI. SAFETY AND HEALTH 11. A Safe and Healthy Work Environment VII. EMPLOYEE AND LABOR RELATIONS 12. Labor Unions and Collective Bargaining 13. Internal Employee Relations VIII. OPERATING IN A GLOBAL ENVIRONMENT 14. Global Human Resource Management
This title is also sold in the various packages listed below. Before purchasing one of these packages, speak with your professor about which one will help you be successful in your course.
Package ISBN-13: 9780133442052
Includes this title packaged with:
Interpretive Simulations Access Code Card Group B
INTERPRETIVE
$282.33 | Add to Cart
Purchase Info
Digital Choices ?
MyLab & Mastering with Pearson eText is a complete digital substitute for a print value pack at a lower price.
MyLab & Mastering ?
MyLab & Mastering products deliver customizable content and highly personalized study paths, responsive learning tools, and real-time evaluation and diagnostics. MyLab & Mastering products help move students toward the moment that matters most—the moment of true understanding and learning.
+ Other Options
eTextbook ?
With CourseSmart eTextbooks and eResources, you save up to 60% off the price of new print textbooks, and can switch between studying online or offline to suit your needs.
Once you have purchased your eTextbooks and added them to your CourseSmart bookshelf, you can access them anytime, anywhere.
Print Choices
Loose Leaf Version ?
Books a la Carte are less-expensive, loose-leaf versions of the same textbook.