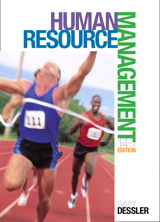 Description
For courses in Human Resources Management.
Human Resource Management provides students in human resource management courses and practicing managers with a full and practical review of essential HR concepts and techniques, with a particular focus on using human resource practices to improve performance, productivity, and profitability at work.
This best-selling HRM text is designed with authoritative and current information on Human Resource Management that ALL managers can use in business. New topics can be found throughout the Fourteenth Edition, along with new features and video cases.
MyManagementLab for Human Resources Management is a total learning package. MyManagementLab is an online homework, tutorial, and assessment program that truly engages students in learning. It helps students better prepare for class, quizzes, and exams–resulting in better performance in the course–and provides educators a dynamic set of tools for gauging individual and class progress.
This program will provide a better teaching and learning experience—for you and your students. It will help:
Personalize Learning with MyManagementLab: Inspire the exchange of new ideas and foster intriguing discussions with the abundant resources found in MyManagementLab.
Focus on Productivity, Performance, and Profits: Practical material helps managers perform day-to-day responsibilities.
Keep Your Course Current and Relevant: New topics and boxed features highlight human resources practices.
Note: You are purchasing a standalone product; MyManagementLab does not come packaged with this content. If you would like to purchase both the physical text and MyManagementLab search for ISBN-10: 0133801993/ISBN-13: 9780133801996. That package includes ISBN-10: 0133545172/ISBN-13: 9780133545173 and ISBN-10: 0133545695/ISBN-13: 9780133545692.
MyManagementLab is not a self-paced technology and should only be purchased when required by an instructor.
Table of Contents
I. Introduction
1. Introduction to Human Resource Management
2. Equal Opportunity and the Law
3. Human Resource Management Strategy and Analysis


II. Recruitment, Placement, and Talent Management
4. Job Analysis and the Talent Management Process
5. Personnel Planning and Recruiting
6. Employee Testing and Selection
7. Interviewing Candidates


III. Training and Development
8. Training and Developing Employees
9. Performance Management and Appraisal
10. Managing Employee Retention, Engagement, and Careers


IV. Compensation
11. Establishing Strategic Pay Plans
12. Pay for Performance and Financial Incentives
13. Benefits and Services


V. Enrichment Topics in Human Resource Management
14. Ethics, Employee Relations, and Fair Treatment at Work
15. Labor Relations and Collective Bargaining
16. Employee Safety and Health
17. Managing Global Human Resources
18. Managing Human Resources in Small and Entrepreneurial Firms

Appendix A. PHR and SPHR Knowledge Base
Appendix B. Comprehensive Cases
Purchase Info ?
With CourseSmart eTextbooks and eResources, you save up to 60% off the price of new print textbooks, and can switch between studying online or offline to suit your needs.
Once you have purchased your eTextbooks and added them to your CourseSmart bookshelf, you can access them anytime, anywhere.
Buy Access
Human Resource Management, CourseSmart eTextbook, 14th Edition
Format: Safari Book
$104.99 | ISBN-13: 978-0-13-354720-7