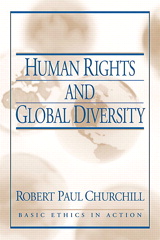 Description
This accessible text defends human rights as truly universal for all persons globally, while respecting the importance of plurality and cultural diversity. It is unique, as well, in discussing cross-cultural negotiations regarding human rights. The book shows that there is no inherent contradiction between human rights norms and social and cultural values, practices, and forms of life worthy of preservation.
Table of Contents
1. Reasoning about Human Rights.
2. Debating the Universality of Human Rights.
3. Human Rights and Cross-Cultural Negotiations.
Appendix A. List of Human Rights Treaties and Covenants.
Appendix B. List of Major Human Rights NGOs.
Index.
Purchase Info ?
With CourseSmart eTextbooks and eResources, you save up to 60% off the price of new print textbooks, and can switch between studying online or offline to suit your needs.
Once you have purchased your eTextbooks and added them to your CourseSmart bookshelf, you can access them anytime, anywhere.
Buy Access
Human Rights and Global Diversity, CourseSmart eTextbook
Format: Safari Book
$21.99 | ISBN-13: 978-0-13-194195-3