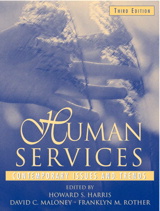 Table of Contents
All chapters feature an "Introduction," "Conclusion," and "References." Each Part opening text features "Key Terms," "Pivotal Discussion Issues," and "Suggested Readings" for the chapters within those sections.
Dedication.
Foreword.
Preface.
I. HUMAN SERVICES—ORIGINS, DEVELOPMENT, AND BASICS.
1. Basic Concepts and Definitions of Human Services, Paul F. Cimmino.
Special Focus Feature—Letter to Paul Cimmino from Harold L. McPheeters.
2. Human Service—The Past as Prelude, Joel DiAmbra.
3. Human Services and Welfare Reform.
The New American Contract with the Poor, Frances Fox Piven.
Welfare Reform's Impact on People—Case Examples: Implications for Human Services, Michael Seliger.
4. Empowerment—Theory and Practice.
Empowerment: Toward a New Definition of Self-Help, Audrey Cohen.
How Alumni Perceive and Use the Constructive Action, Shirley Conyard
II. HUMAN SERVICE PROFESSIONALS—SKILLS, VALUES, AND STANDARDS.
Special Focus Feature—Welcome to Human Services: A Journey to Helping Others, Margaret French.
5. Human Services: Necessary Skills and Values, Lorence A. Long and Maureen Doyle.
6. Techniques and Skills in Interviewing, John Hancock.
Special Focus Feature—Short Term Psychotherapy, Lynne Schmelter-Davis.
7. Helping Services for Groups, Barbara Somerville.
Special Focus Feature—Conflict Resolution: An Example of Using Skills in Working with Groups, Janet Hagen.
8. National Community Support Skill Standards Project: Implications for Human Service Education, Mary DiGiovanni, Franklyn M. Rother and David C. Maloney.
Special Focus Feature—The Human Services Worker: A Generic Job Description.
III. HUMAN SERVICES CLIENTS: FAMILY AND CHILDREN.
9. Domestic Violence, Battered Women, and Dimensions of the Problem, Maria Munoz-Kantha.
10. The Child Welfare Delivery System in the United States, David S. Leiderman, Madelyn De Woody, and Megan Sylvester.
11. Child Maltreatment and Abuse: The Problem and Human Services, James Edell Lopez.
12. Youth and Human Services, Walter de Oliveira and Christopher R. Edginion.
Special Focus Feature—Pregnant Productions: A Vygotsky-Inspired Approach to Teens and Teen Pregnancy, Rafael Mendez.
IV. HUMAN SERVICES CLIENTS—SPECIAL POPULATIONS.
13. HIV-AIDS—New Directions, New Hopes, Wm. Lynn McKinney.
14. Human Services for Homeless People, Lorence A. Long.
15. Helping for Alcohol and Drug Abuse, Marcel A. Duclos and Marianne Gfoerer.
Special Focus Feature—A Social Norms Approach: Reduction of Alcohol and Drug Abuse Among College Students, Franklyn M. Rother.
16. Helping Services for Older Adults, Kathleen J. Niccum.
17. Human Services and Criminal Justice: People and the System, David Whelan.
Special Focus Feature—Architecture for Justice Direct Supervision Management, Anthony W. Pellicane.
V. CHANGING THE SYSTEM(s) IN HUMAN SERVICES.
18. Policy, Politics, and Human Services, Harold M. McPheeters.
19. Community Organizing as a Human Service, Lee Stuart.
20. Human Services in the Mental Health Arena: From Institution to Community, Joseph Mehr.
21. Americans with Disabilities: Advocacy, Law, and Human Services, Christine L Shane.
VI. LAW, ETHICS, AND PROFESSIONAL ISSUES.
22. Legal Foundations in Human Services: Considerations for Clients and Workers, Peter Clark, Ann Ackle, and David C. Maloney.
23. Law, Ethics, and the Human Service Worker, Naydean Blair.
24. Human Services as a Career: Personal Survival and Professional Growth, Miriam Clubok.
25. Burnout: Avoiding the Trap, H. Frederick Sweitzer.
Special Focus Feature—Ethical Standards of Human Service Professionals, N.O.H.S.E.
VII. EMERGING INFLUENCES AND TRENDS.
26. Trends and Challenges of Cultural Diversity, R. Donna Petrie.
27. Technology and Human Services, Stan Rosenzweig.
28. Technology and Sociality: Current Challenges for the Human Service Generalist, Eugene M. De Robertis and Robert A. Saldarini.
Special Focus Feature: Service Learning Experience That Transforms Students' Lives, Linda Mass.
29. Research Models in Human Services, Rod Underwood and Michael Lee.
About the Editors.
About the Authors.
Index.