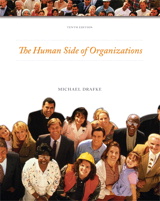 Description
For Human Relations, Behavior in Organizations, Organizational Behavior courses.
Widely used and respected, this text has been adopted by hundreds of colleges in the U.S. and Canada since its first inception. "The Human Side of Organizations" delivers complete, up-to-date, practical information on how people behave in organizations, how organizations and job design affect behavior at work, and how change impacts the business organization. This new edition strives to make material more meaningful to readers through new spot check exercises, student self-assessments, personal point exercises, and skill-building activities that reinforce the material step-by-step.
Table of Contents
Table of Contents
PART ONE: THE BASICS OF HUMAN RELATIONS
1. Work and Its Place in Life
2. Perception and Problem Solving
3. Primary Communications
4. Improving Communications and Managing Conflict
5. Ethics and Etiquette
PART TWO: THE ORGANIZATIONAL FRAMEWORK
6. Jobs, from Design to Appraisal
7. Formal Organizations: How People Organize
8. Understanding Management
9. Small Groups and the Informal Organization
10. Individuals and Self-Management
PART THREE: INDUCING ORGANIZATIONAL ACTIVITY
11. Motivation and Morale
12. Job Satisfaction and Quality of Work Life
13. The Dynamics of Change
PART FOUR: STRATEGIES FOR IMPROVING ORGANIZATIONAL BEHAVIOR AND PERFORMANCE
14. Leadership
15. Stress
16. Challenges and Opportunities
Purchase Info ?
With CourseSmart eTextbooks and eResources, you save up to 60% off the price of new print textbooks, and can switch between studying online or offline to suit your needs.
Once you have purchased your eTextbooks and added them to your CourseSmart bookshelf, you can access them anytime, anywhere.
Buy Access
Human Side of Organizations, CourseSmart eTextbook, 10th Edition
Format: Safari Book
$72.99 | ISBN-13: 978-0-13-501847-7