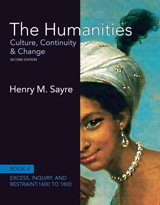 Description
For an undergraduate introductory level course in the humanities.

Humanities narrated in a story-telling approach.

The Humanities: Culture, Continuity & Change helps students see context and make connections across the humanities by tying together the entire cultural experience through a narrative storytelling approach. Written around Henry Sayre's belief that students learn best by remembering stories rather than memorizing facts, it captures the voices that have shaped and influenced human thinking and creativity throughout our history.
Table of Contents
Preface
Excess, Inquiry, and Restraint: 1600 to 1800
Ch. 21- The Baroque in Italy: The Church and Its Appeal
Ch. 22- The Secular Baroque in the North: the Art of Observation
Ch. 23- The Baroque Court: Absolute Power and Royal Patronage
Ch. 24- The Rise of the Enlightenment in England: The Claims of Reason
Ch. 25- The Rococo and the Enlightenment on the Continent: Privilege and Reason
Ch. 26- The Rights of Man: Revolution and the Neoclassical Style
Index
Photo and Text Credits
Purchase Info
ISBN-10: 0-205-01333-3
ISBN-13: 978-0-205-01333-3
Format: Alternate Binding
This title is currently unavailable on myPearsonStore.
Digital Choices ?
MyLab & Mastering with Pearson eText is a complete digital substitute for a print value pack at a lower price.
MyLab & Mastering ?
MyLab & Mastering products deliver customizable content and highly personalized study paths, responsive learning tools, and real-time evaluation and diagnostics. MyLab & Mastering products help move students toward the moment that matters most—the moment of true understanding and learning.
+ Other Options