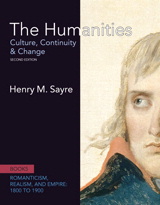 Description
For an undergraduate introductory level course in the humanities.

Humanities narrated in a story-telling approach.

The Humanities: Culture, Continuity & Change helps students see context and make connections across the humanities by tying together the entire cultural experience through a narrative storytelling approach. Written around Henry Sayre's belief that students learn best by remembering stories rather than memorizing facts, it captures the voices that have shaped and influenced human thinking and creativity throughout our history.
Table of Contents
Preface
Romanticism, Realism, and Empire: 1800 to 1900
Ch. 27- The Romantic World View: The Self in Nature and The Nature of Self
Ch. 28- Industry and the Working Class: A New Realism
Ch. 29- Global Confrontation and Civil War: Challenges to Cultural Identity
Ch. 30- In Pursuit of Modernity: Paris in the 1850s and 1860s
Ch. 31- The Promise of Renewal: Hope and Possibility in Late Nineteenth Century Europe
Ch. 32- The Course of Empire: Expansion and Conflic in America
Ch. 33- The Fin de Siecle: Toward the Modern
Index
Photo and Text Credits
Purchase Info
ISBN-10: 0-205-01331-7
ISBN-13: 978-0-205-01331-9
Format: Alternate Binding
This title is currently unavailable on myPearsonStore.