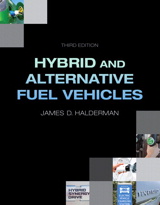 Description
For courses in automotive fuel and emissions; engine performance; hybrid electric vehicles; automotive technology; alternative fuel systems; and emerging technologies.
This fully updated text brings covers all topics needed to teach a modern service technician's course on hybrid electric vehicles. It combines all essential background information, as well as up-to-date vehicle specific information on the latest makes. Now in full color throughout, this edition offers over 140 new color line drawings and photographs. It adds new coverage of the Chevrolet Volt, Tesla, and Nissan Leaf; the Buick LaCrosse mild hybrid; two-mode operation and transmission operation; high-voltage and auxiliary battery locations; the SAE J1772 electric vehicle plug; Level 1, 2 and 3 charging stations; and the latest alternative fuels. It also covers both engine performance (ASE A8 content) and advanced engine performance (ASE L1 content), enabling instructors to teach both ASE areas without requiring separate texts.
Table of Contents
1. Carbon-Based Fuels and the Environment
2. Introduction to Hybrid Vehicles
3. Internal Combustion Engine Systems
4. Gasoline
5. Alternative Fuels
6. Diesel and Biodiesel Fuels
7 . Hybrid Batteries and Battery Service
8. Electric Motors, Generators, and Controls
9. Regenerative Braking System
10. Hybrid Vehicle Transmissions and Transaxles
11. Hybrid Vehicle Heating and Air Conditioning
12. Honda Hybrid Vehicles
13. Toyota/Lexus Hybrid Vehicles
14. Ford/Mercury Hybrid Vehicles
15. General Motors Hybrid Vehicles
16. Fuel Cells and Advanced Technologies
17. Hybrid Safety and Service Procedures
18. First Responder Procedures
Purchase Info ?
With CourseSmart eTextbooks and eResources, you save up to 60% off the price of new print textbooks, and can switch between studying online or offline to suit your needs.
Once you have purchased your eTextbooks and added them to your CourseSmart bookshelf, you can access them anytime, anywhere.
Buy Access
Hybrid and Alternative Fuel Vehicles, CourseSmart eTextbook, 3rd Edition
Format: Safari Book
$69.99 | ISBN-13: 978-0-13-298949-7