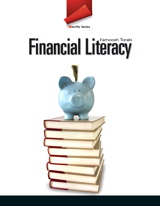 Description
Financial Literacy addresses the most critical financial issues facing students and more importantly, how to manage them. It offers helpful information and practical advice to guide students to make better financial choices. From student loans to credit cards and budgeting, the author speaks directly to students and encourages them to think and act proactively about their finances. This makes it easy to start healthy conversations and provide problem-solving lessons around money. Torabi understands how to effectively communicate on money and financial responsibility grounded in years of experience working with college students.
Infuse student success into any program with our "IDentity" Series booklets. Written by national subject matter experts, the material contains strategies and activities for immediate application. If you like this IDentity Series: Financial Literacy, you will love the other options available: Financial Responsibility (Clearpoint Financial), Now You're Thinking about College (Judy Chartrand et.al.), Now You're Thinking about Your Career (Judy Chartrand et.al.), and Ownership (Megan Stone).
Table of Contents
Farnoosh's Letter
Introduction
Chapter 1 Obtaining Credit
· Credit Cards on Campus: A Modern History
· Credit Cards: Ready, Set, Go.
· Choosing the Best Credit Card
Chapter 2 Your Financial Identity
Your Credit Report
Your Credit Score
· Boost Your Score
· Credit FAQs
· Protect Your Identity
Chapter 3 Smart Banking
Picking the Best Bank
Bank With Awareness
Chapter 4 Budgeting and Saving
· Establishing a Budget
· Your Student ID
· Money Saving Apps
· Protect Your Money
Chapter 5 Navigating Financial Aid
· Private Versus Public
· Postponing Student Loan Repayment
· Repaying Student Loans
· Finish in Four Years
· Avoid Financing College With Credit
· Make Money in College
Chapter 6 Beyond Graduation
· The Anatomy of a Real World Budget
· Living With Family
· Securing Health Care
Chapter 7 Resources
This title is also sold in the various packages listed below. Before purchasing one of these packages, speak with your professor about which one will help you be successful in your course.