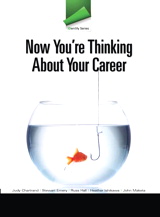 Description
Now You're Thinking about Your Career presents Critical Thinking as the #1 skill of increasing importance in today's workplace, and is the key to career success. Students will learn about critical thinking, assess their thinking style, and identify how to improve thinking. Good thinking skills will differentiate students from other job candidates, give them a competitive advantage, and help them to step into the job and perform with confidence. Students will learn how to: Stop & think. Identify the real issue. Know when information is critical and when it's not. Explore alternatives. Decide. Make it happen. Be successful.
Infuse student success into any program with our "IDentity" Series booklets. Written by national subject matter experts, the material contains strategies and activities for immediate application. If you like this IDentity Series: Now You're Thinking about Your Career, you will love the other options available: Financial Literacy (Farnoosh Torabi), Financial Responsibility (Clearpoint Financial), Now You're Thinking about College (Judy Chartrand et.al.), and Ownership (Megan Stone).
AVAILABILITY: It is available via our Pearson Custom Library program as a standalone product or as part of a custom text. Go to http://www.pearsonlearningsolutions.com/custom-library/pearson-custom-student-success-and-career-development to view the content and build your book!
Table of Contents
Brief Table of Contents
Chapter 1: Think Your Way to Career Success
Chapter 2: A New Way of Thinking
Chapter 3: Your Thinking Style
Chapter 4: You're On Your Way
Expanded Table of Contents
Chapter 1: Think Your Way to Career Success
Critical thinking has emerged as the top workplace skill - in high demand and short supply. Becoming a good thinker is a workplace necessity and a competitive advantage for the job seeker. Using an engaging model, students learn how motivation (dreams & goals), emotion (feelings) and cognition (thinking) work together to drive successful workplace behavior. The importance of clear goals and balancing thinking and feelings is emphasized.
Chapter 2: A New Way of Thinking
Students learn and apply a practical 5-step model of critical thinking (which includes Pearson's RED model). Examples emphasize workplace readiness and professionalism. Through engaging stories, students learn meta-cognitive, reflective, and analytical skills.
· Stop and Think
· Recognize Assumptions
· Evaluate Information
· Draw Conclusions
· Plan of Action
Chapter 3: Your Thinking Style
To personalize and deepen the learning experience, students take an on-line thinking style assessment (less than 10 minutes to complete) and receive a feedback report. They learn which styles are their strongest and how to leverage those styles to achieve workplace success. The seven thinking styles are based on the literature of positive dispositions of critical thinking.
Chapter 4: You're On Your Way
Practical tips are offered to help students start practicing and applying critical thinking skills to achieve career success.
· Get Started
· Gain Momentum
· Enjoy Success
This title is also sold in the various packages listed below. Before purchasing one of these packages, speak with your professor about which one will help you be successful in your course.
Package ISBN-13: 9780132949583
Includes this title packaged with:
Hired! The Job Hunting and Career Planning Guide, 4th Edition
Michael Stebleton, Michael Henle
$86.87 $82.53 | Add to Cart
Package ISBN-13: 9780321892546
Includes this title packaged with:
Professionalism: Skills for Workplace Success, 3rd Edition
Lydia E. Anderson, Sandra B. Bolt
$95.07 $90.32 | Add to Cart