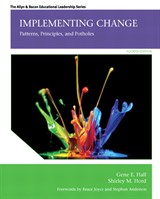 Description
A research-based guide for educators to the practical methods of understanding, evaluating and facilitating the change process.
Significantly revised based on student and instructor feedback, the new Fourth Edition of Implementing Change continues to examine the ways in which change processes are experienced by those "on the ground" while adding new features, new material and the most current research. Based primarily on the Concerns Based Adoption Model (CBAM), this user-friendly text focuses on introducing constructs that can be used by those engaged in facilitating change processes as well as those who are evaluating and studying change.
Table of Contents
Part I The Context for Implementing Change
Chapter 1 What Key Patterns, Principles, and Lessons Have We Learned About Implementing Change?
Chapter 2 What Actions and Events Are Imperative in Facilitating Implementation?
Part II The People Part of Change: Three Diagnostic Dimensions: Concerns, Using, and Fidelity
Chapter 3 How Can We Clarify the Change?
Chapter 4 How Can the Different Feelings and Perceptions About Change Be Understood and Addressed?
Chapter 5 What Are Characteristic Behavioral Profiles of Implementers?
Part III Leading Change across the Organization
Chapter 6 How Do Leaders Make a Difference in Implementation Success?
Chapter 7 How Does a Culture of Continuous Learning Support Implementation?
Chapter 8 What Can Be Done to Understand a Part of the Change Process That Is Not Controlled by the Leaders or the Followers?
Part IV Different Perspectives for Understanding the Big Picture of Change: Systems, Diffusion, and Organization Development
Chapter 9 How Can Systems Thinking Enhance the Success of Change Efforts?
Chapter 10 How Do Communication Activities and Change Agents Affect Implementation?
Chapter 11 In What Ways Can Team Member Skills and Process Consultants Affect Implementation?
Part V Combining Views: Perspectives, Constructs, Tools, Applications, and Implications
Chapter 12 How Can Change Constructs Be Combined to Understand, Assess, and Lead Efforts to Implement Change?
Appendix A Stages of Concern Questionnaire
Appendix B Stages of Concern Questionnaire Scoring Device
Appendix C Levels of Use of the Innovation
Appendix D Six Dimensions of Change Facilitator Style
Appendix E Change Facilitator Style Questionnaire
Appendix F Change Facilitator Style Questionnaire Scoring Device
Appendix G Example Interventions for Each Stage of Concern
References
Index