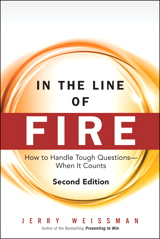 Description
Answer even the toughest, most hostile questions brilliantly: take the floor, stay poised, and win your audience over every time! Imagine: you're standing in front of an audience and you've just been asked the question you'd been dreading — or, worse, you've been blindsided with a brutal question you never expected. What to do? Jerry Weissman has made a career of preparing executives for that moment. He's coached nearly 500 executives on their IPO road shows, the most critical presentations of their lives. Weissman's In the Line of Fire has established itself as the world's definitive guide to answering brutally tough questions in public — and now, he's completely updated this classic with new examples, case studies, and even more great advice. Using compelling, up-to-the-minute examples from Wall Street, Washington, D.C., and beyond, Weissman teaches how to respond with perfect assurance, no matter what. You'll discover how to avoid the defensive, evasive, or contentious answers that have destroyed political careers and can ruin your credibility. Weissman shows you how to control your entire exchange with a hostile questioner: the question, answer, interactions with questioner and audience, timing, and above all, yourself. Whether you're an executive, politician, fundraiser, interviewee, teacher, student — or even a family member at Thanksgiving dinner — you're judged on how you handle these moments. Get this book: handle them brilliantly.
Table of Contents
Introduction: Universal Challenges, Universal Solutions xv
Chapter 1: Agility versus Force 1
Chapter 2: The Critical Dynamics of Q&A 9
Chapter 3: Effective Management Implemented 21
Chapter 4: You're Not Listening! 29
Chapter 5: Active Listening 43
Chapter 6: Retake the Floor 57
Chapter 7: Provide the Answer 87
Chapter 8: Topspin in Action 105
Chapter 9: Preparation 119
Chapter 10: The Art of War 137
Chpater 11: Lessons Not Learned 151
Chapter 12: The Role Model 165
Endnotes 177
Acknowledgments 187
Index 191
Jerry Weissman's legendary guide to answering even the most brutally tough questions in public, and winning over any audience – now completely updated with new examples, case studies, and more!