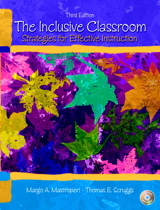 Description
The Inclusive Classroom: Strategies for Effective Instruction provides a wealth of practical and proven strategies for successfully including students with disabilities in general education classrooms. The popular book is unique for its three-part coverage of fundamentals of teaching students with special needs (including legal and professional issues, and characteristics of students with special needs); effective general teaching practices (including such topics as strategies for behavior management, improving motivation, increasing attention and memory, and improving study skills); and inclusive practices in specific subject areas (including literacy, math, science and social studies, vocational and other areas).
The third edition focuses on the basic tools general educators need and directly relates content to the academic and professional demands of teachers in inclusive settings.
Practical and Effective Teaching and Learning Strategies
In the Classroom features offer tips, strategies, and resources that address very specific need areas, and can be practically applied to inclusive classroom situations.
Classroom Scenarios provide context for the specific teaching strategies featured in the book.
Strategy and Lesson Plan Database CD-ROM packaged with the book provides users with a searchable database of the strategies featured in the book as well as additional lesson plans for the inclusive classroom. The database software also allows users to modify and adapt current strategies and lesson plans or to create new ones.
Research and Resources that Support Practice and Professionalism
Research Highlights explain the research behind certain teaching strategies developed for use with students with special needs, provide resources for further information and explanation, and tie chapter content to the research with reflection questions.
Diversity in the Classroom features address the fact that classrooms are more diverse not only in respect to students with disabilities, but also with respect to race, religion, and ethnicity.
Professional Standards (including CEC, INTASC, and PRAXIS) are listed at the end of each chapter where relevant.
Table of Contents
PART I The Fundamentals
Chapter 1 Introduction to Inclusive Teaching
Chapter 2 Collaboration: Partnerships and Procedures
Chapter 3 Teaching Students with Higher-Incidence Disabilities
Chapter 4 Teaching Students with Lower-Incidence Disabilities
Chapter 5 Teaching Students with Other Special Learning Needs
PART II Developing Effective Teaching Skills
Chapter 6 Effective Instruction for All Students
Chapter 7 Improving Classroom Behavior and Social Skills
Chapter 8 Promoting Inclusion with Classroom Peers
Chapter 9 Enhancing Motivation and Affect
Chapter 10 Improving Attention and Memory
Chapter 11 Teaching Study Skills
Chapter 12 Assessment
PART III Teaching in the Content Areas
Chapter 13 Literacy
Chapter 14 Mathematics
Chapter 15 Science and Social Studies
Chapter 16 Art, Music, Physical Education, Foreign Languages, and Career and Technical Education
Chapter 17 Transitions