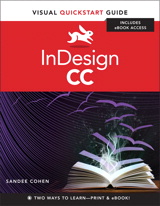 Description
&>
Using the task-based, visual approach that students count on in the Visual QuickStart Guides, this volume introduces them to all aspects of InDesign CC. They'll learn how to create and automate documents, import and style text and objects, manage long documents, export files for a wide variety of purposes, and much more. Also included is full-color coverage of InDesign CC's new features includes: updated tools for a variety of output formats; the new QR code generator, to easily allow linking to online content; Font Favorites, to make it easy to customize workspaces.
Download a copy of Adobe Creative Cloud PTG Product Guide from the PTG Academic Sales NEO group:
https://neo.pearson.com/groups/ptg-academic-sales
It includes a complete list of PTG CC products by application and user level and includes bestseller information.
Purchase Info ?
With CourseSmart eTextbooks and eResources, you save up to 60% off the price of new print textbooks, and can switch between studying online or offline to suit your needs.
Once you have purchased your eTextbooks and added them to your CourseSmart bookshelf, you can access them anytime, anywhere.
Buy Access
InDesign CC: Visual QuickStart Guide, CourseSmart eTextbook
Format: Safari Book
$19.99 | ISBN-13: 978-0-13-343530-6