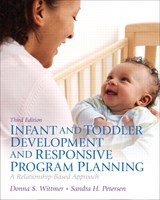 Description
Note: This is the loose-leaf version of Infant and Toddler Development and Responsive Program Planning and does not include access to the Enhanced Pearson eText. To order the Enhanced Pearson eText packaged with the loose-leaf version, use ISBN 0133413748.
The Third Edition of this comprehensive and applied resource for teachers of the very young details and celebrates the many nuances of infant and toddler development from pre-birth through age 36 months old. In a uniquely engaging full-color presentation (in the Pearson eText), the authors clearly explain theory, include current research, and explain appropriate practice throughout the chapters on development, curriculum, program planning, guidance, and professionalism. Using a relationship-based model for understanding how infants and toddlers grow and learn in typical and atypical ways, this book maintains a keen focus on the importance of families' and teachers' relationships and responsiveness in interactions with children, the latest developmental research, an emphasis on child-centered planning, a particularly strong coverage of infants and toddlers with special needs, and a focus on the effects of culture, families, and quality programs on infant-toddler development and interactions. Readers will come away with a deeper understanding of why, according to the science of child development, certain practices support or hinder an infant's or toddler's optimal development–and how to provide responsive, high-quality care. The Enhanced Pearson eText features embedded video and internet resources.
Improve mastery and retention with the Enhanced Pearson eText*
The Enhanced Pearson eText provides a rich, interactive learning environment designed to improve student mastery of content. The Enhanced Pearson eText is:
Engaging. The new interactive, multimedia learning features were developed by the authors and other subject-matter experts to deepen and enrich the learning experience.

Convenient. Enjoy instant online access from your computer or download the Pearson eText App to read on or offline on your iPad® and Android® tablet.*

Affordable. Experience the advantages of the Enhanced Pearson eText along with all the benefits of print for 40% to 50% less than a print bound book.
*The Enhanced eText features are only available in the Pearson eText format. They are not available in third-party eTexts or downloads.
*The Pearson eText App is available on Google Play and in the App Store. It requires Android OS 3.1-4, a 7" or 10" tablet, or iPad iOS 5.0 or later.
Table of Contents
Chapter 1 A Relationship-Based Model and the Importance of the Infant and Toddler Years
Chapter 2 Infants, Toddlers, and Their Families
Chapter 3 Understanding and Using Theories
Chapter 4 The Power of Observation Learning About Infants and Toddlers
Chapter 5 Brain and Prenatal Development, Birth, and the Newborn
Chapter 6 Attachment and Emotional Relationships
Chapter 7 Social Development and Learning with Peers
Chapter 8 Cognitive Development and Learning
Chapter 9 Language Development and Learning
Chapter 10 Motor Development and Learning
Chapter 11 Responsive Programs: Quality, Health, Safety, and Nutrition
Chapter 12 Creating a Relationship-Based Curriculum
Chapter 13 Routines, Environments, and Opportunities: Day to Day the Relationship Way
Chapter 14 Respect, Reflect, and Relate: The 3R Approach to Guidance
Chapter 15 Including Infants and Toddlers with Disabilities in Child Development and Education Programs
Chapter 16 The Infant-Toddler Professional
This title is also sold in the various packages listed below. Before purchasing one of these packages, speak with your professor about which one will help you be successful in your course.
Package ISBN-13: 9780134458724
Includes this title packaged with:
Infant and Toddler Development and Responsive Program Planning: A Relationship-Based Approach, Video-Enhanced Pearson eText -- Access Card, 3rd Edition
Donna S. Wittmer, Sandy Petersen
MyVirtualChild -- Standalone Access Card, 2nd Edition
Frank Manis
$72.07 | Add to Cart