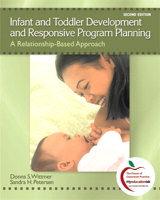 Description
"Infants and toddlers are remarkable, delightful, and engaging human beings who require sensitive and responsive families and teachers in order to develop into capable and caring adults. Connections with others–families, teachers, and peers–support infants and toddlers as they figure out who they are, sustain meaningful relationships, and gain knowledge about their world. As you walk through the incredible developmental journey that infants and toddlers take, you will appreciate how children influence and impact their families and teachers–and in turn how families, cultural perspectives, and the larger world influence who these infants and toddlers become."
--From Chapter 1 of Infant and Toddler Development and Responsive Program Planning: A Relationship-Based Approach, Second Edition by Wittmer and Petersen
Taking an applied approach, the authors of this comprehensive guide to development, curriculum, and program planning for infants and toddlers ages pre-birth to 36 months emphasize how important nurturing adults are to the young children in their care. Written in an accessible and engaging style to appeal to students at varying levels, the overarching theme of the book is that even infants communicate and how the adults in their lives respond to them will have a profound effect on their development. The goal of the book is that students reading it will learn strategies to promote the well-being, competence, positive developmental outcomes, and quality of life for infants and toddlers and their families.
To accomplish this goal the authors have provided numerous pedagogical aids throughout the book, such as:
Observation Invitations provide photos and written observations about children to show how adults can use such tools to benefit infants and toddler learning.

Strategies to Support Development boxes summarize specific strategies for teachers and other adults that facilitate the child's development in that domain.

Developmental Trends and Responsive Interactions charts in the development chapters describe the capacities of the child as well as developmental milestones.

Unique Beginnings sections in the development chapters provide insight into how young children and infants differ in their development.

Reflections and Resources for the Reader at the end of each chapter provide follow-up questions and reinforce material that corresponds with the chapter content.

Summary and Key terms review the main points and vocabulary of the chapter.

Interesting Links at the end of each chapter give examples of websites that relate to the chapter content.
They also give strong emphasis on the theories behind how children develop and learn, coverage of research on the important prenatal developmental period, and the five domains of development–emotional, social, cognitive, language, and motor.
New to this Edition
NEW! Chapter One now includes a comprehensive review of the literature regarding the key elements of a relationship-based approach and the research evidence that supports it
NEW! Includes the most recent research on infant and toddler development, individualized planning, and curriculum
NEW! Written to engage the student to respect the capabilities of infants and toddlers
NEW! Discusses issues such as the effect of multiple attachments and bilingual opportunities for infants and toddlers
NEW! Includes a new chapter on observations, documentation, and assessment of infants and toddlers
NEW! Gives updated information on the effectiveness of different curriculum approaches
Table of Contents
Chapter 1 A Relationship-Based Model and the Importance of the Infant and Toddler Years
Chapter 2 Infants, Toddlers, and Their Families
Chapter 3 Understanding and Using Theories
Chapter 4 The Power of Observation: Learning About Infants and Toddlers

Chapter 5 Brain and Prenatal Development, Birth, and the Newborn
Chapter 6 Attachment and Emotional Relationships
Chapter 7 Social Development and Learning with Peers
Chapter 8 Cognitive Development and Learning
Chapter 9 Language Development and Learning
Chapter 10 Motor Development and Learning
Chapter 11 Responsive Programs: Quality, Health, Safety, and Nutrition
Chapter 12 Creating a Relationship-Based Curriculum
Chapter 13 Routines, Environments, and Opportunities: Day to Day the Relationship Way

Chapter 14 Respect, Reflect, and Relate: The 3 R Approach to Guidance
Chapter 15 Including Infants and Toddlers with Disabilities in Child Development and Education Programs
Chapter 16 The Infant-Toddler Professional: Identity, Relationships, and Resources

Appendix A Portraits of Development
Appendix B Portraits of Development (Spanish)
Appendix C Developmental Trends and Responsive Interactions (Spanish)
Appendix D Planning Guides