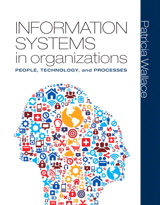 Description
The freshest, most contemporary overview of information systems.
Table of Contents
Chapter 1. Information Systems and People
Chapter 2. Information Systems and Strategy
Chapter 3. Information and Communications Technologies: The Enterprise Architecture
Chapter 4. Managing Information Resources with Databases
Chapter 5. Information Systems for the Enterprise
Chapter 6. The Web and E-Commerce
Chapter 7. Business Intelligence and Decision Support
Chapter 8. Collaborating with Technology
Chapter 9. Knowledge Management and E-Learning
Chapter 10. Ethics, Privacy and Security
Chapter 11. Systems Development and Procurement
Chapter 12. Project Management and Strategic Planning
Purchase Info ?
With CourseSmart eTextbooks and eResources, you save up to 60% off the price of new print textbooks, and can switch between studying online or offline to suit your needs.
Once you have purchased your eTextbooks and added them to your CourseSmart bookshelf, you can access them anytime, anywhere.
Buy Access
Information Systems in Organizations, CourseSmart eTextbook
Format: Safari Book
$94.99 | ISBN-13: 978-0-13-213207-7